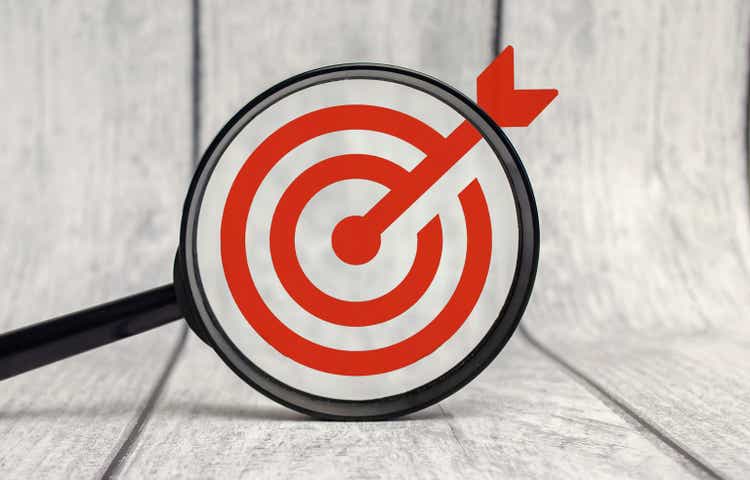 Over my 12 years on Seeking Alpha, I think I've remained fairly consistent with my message through rules like:
No sucker yields
No yield traps
No risky IPOs
Almost no externally managed companies
No market

timing.
They've kept me – and hopefully my followers – out of a lot of trouble. And while staying out of trouble might sound boring, I maintain that boring can be beautiful
My 30+ years of investing experience has taught me the value of avoiding stupid mistakes. As Charlie Munger, Warren Buffett's sidekick, once said:
"It is remarkable how much long-term advantage people like us have gotten by trying to be consistently not stupid instead of trying to be very intelligent."
We all have the tendency to be "too cute" when we don't need to be. The stock market is one of the few places where you can be above average by simply making average, level-headed decisions over time.
As for being exceptional, Munger also looks for easy-to-understand, dominant businesses that can excel in most any market cycle. He calls this understandability factor the "circle of competence."
Basically, know where your boundary is and don't step outside of it.
I tend to take that advice, which is part of why my favorite property subsector is what it is: net-lease real estate investment trusts ("REITs").
My Net-Lease Experience at Your Disposal
I have vast experience with net-lease assets since I've developed them from the ground up for companies like:
Advance Auto Stores (AAP)
O'Reilly Auto Parts (ORLY)
Walgreens (WBA)
Rite Aid (RAD)
CVS (CVS)
Red Lobster
Outback
PetSmart
Dollar General (DG)
Dollar Tree (DLTR)
IHOP
Applebee's.
And that's the short list.
There's a lot of hard work involved, from finding attractive sites to obtaining approvals and financing, to hiring contractors. Yet I enjoyed my role as a developer – including attending ribbon-cutting ceremonies alongside store managers, employees, and city officials to celebrate.
However, the most rewarding thing about being a net-lease landlord is collecting the rent checks every month. They're about as predictable as it gets when it comes to real estate investing.
I didn't coin the acronym SWAN investing for sleep-well-at-night stocks. But if I did, I would have been thinking about these net-lease rent checks at the time.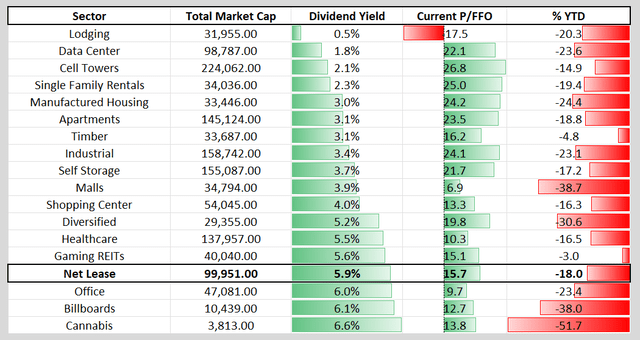 As shown above, net-lease REITs are among the highest-yielding subsectors in the equity REIT universe with an average 5.9%.
Admittedly, they've returned -18% year-to-date as a category. But that just means attractive entry points. That's why my iREIT on Alpha team is spending a lot of time researching the most promising net-lease REITs…
Like the following three.
Net-Lease REIT #1: National Retail Properties
National Retail Properties, Inc. (NNN) is a well-established triple net-lease REIT that went public in 1994 alongside Realty Income (O).
Since then, O has dominated in popularity. But NNN has held up quite well, nonetheless.
As of Q1, it owned 3,271 single-tenant properties across 48 states leased to over 370 unique tenants.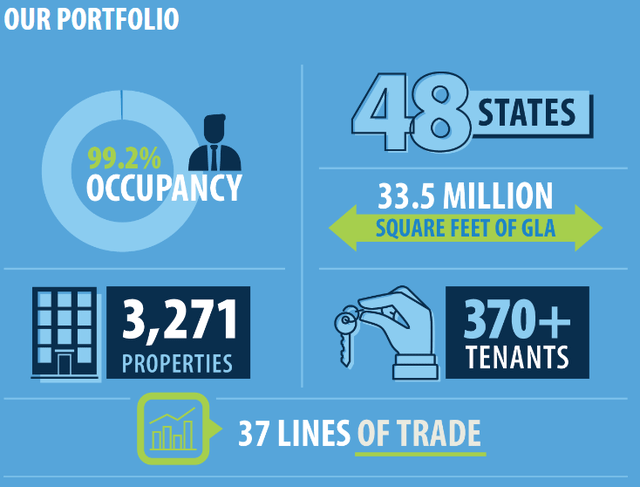 Moreover, many of its tenants can withstand both economic downturns and e-commerce pressures. Here's a look at its top 20 lines of trade: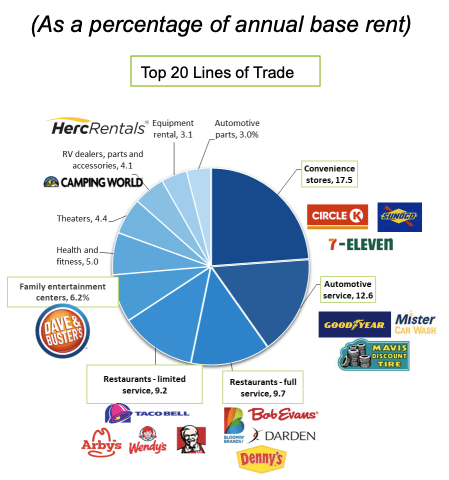 That stable portfolio has helped fund a very strong dividend that's enjoyed 32 consecutive years of growth. And this month, we expect to hear that number change to 33.
National Retail Property's dividend was well-covered, with an adjusted funds from operations (AFFO) payout ratio of only 68% in Q1. This incredible figure only adds to NNN's safety if we do dip into a recession.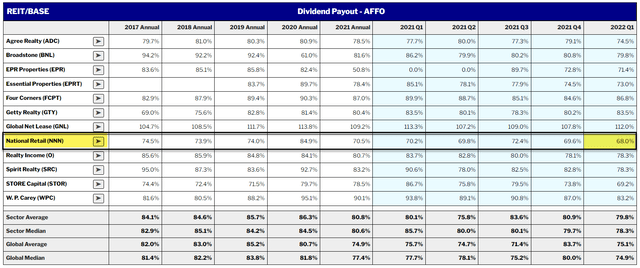 Knowing all that, it shouldn't be surprising that the company comes with a BBB+ investment-grade rating. Or that it's well-positioned from a debt standpoint.
NNN has a weighted average debt maturity of 14.5 years with no major debt maturing until 2024.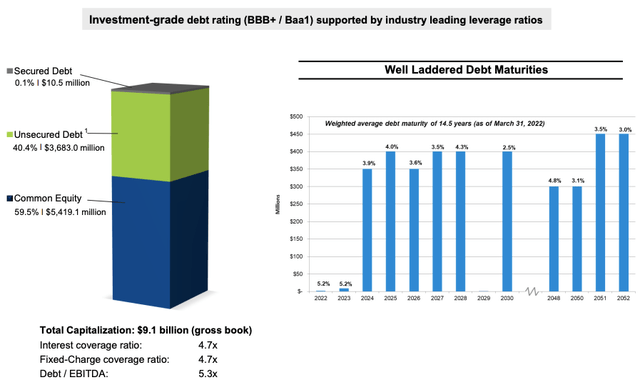 Its strong financial position has earned it a major industry advantage, rather like Realty Income. As viewed below, NNN has a safe divided safety score of 8.491 out of 10.
On the year, shares of NNN are down 7.9%, far outpacing the greater REIT market as well as the S&P 500, which are both down 21.3% and 20.4%, respectively.
Shares of NNN appear to be trading at a rather intriguing valuation.
Based on analysts' 2022 AFFO expectations of $3.17, NNN trades at a forward p/AFFO multiple of 13.9x. Since it's been closer to 17x over the past five years, shares look undervalued today.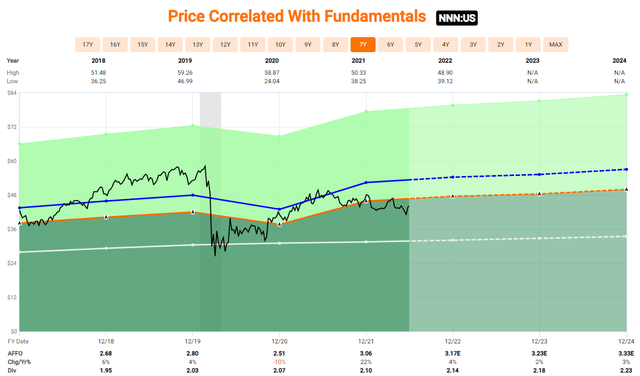 Net-Lease REIT #2: Spirit Realty Capital
Another net-lease REIT we rate a Strong Buy is Spirit Realty, Inc. (SRC). Shares of SRC have come under siege this year, now down nearly 20%.
I often hear about net-lease REITs being bond substitutes. This is strictly false, born out of a lack of familiarity with the subsector and larger sector.
As mentioned before, most people don't think further than Realty Income when it comes to net-lease REITs. Yet there are so many others out there like it trading at much cheaper valuations.
You all know how much I love me some O. However, that doesn't mean I should ignore other impressive opportunities.
Spirit Realty sports many similarities to Realty Income – except for its valuation, which is admittedly sizable. Its portfolio consists of 2,039 properties leased to 334 tenants.
Here's a look at its top tenants: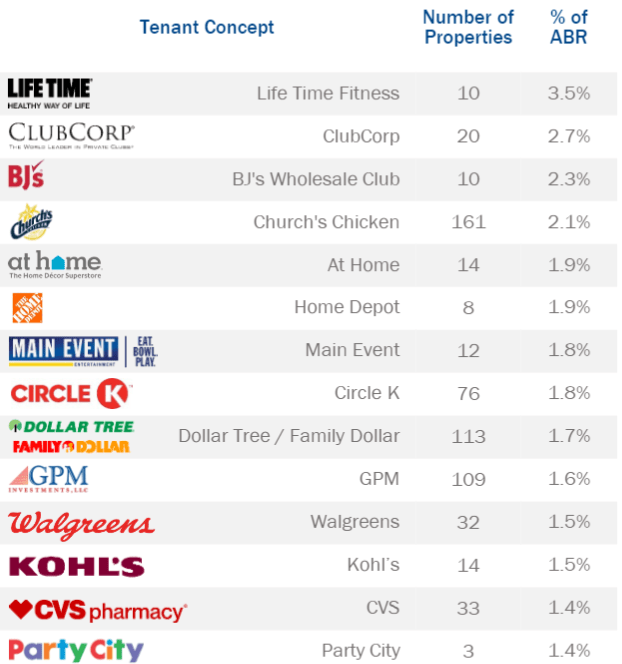 Admittedly, its top tenant is a gym, which can be cause for concern considering the shutdowns and oncoming recession. However, Life Time Fitness caters to a higher-end clientele that's more likely to continue paying for memberships regardless.
Another pandemic could pose a risk. But not so much a mere economic slowdown.
One of the great things about net-lease REITs is the predictability of their cashflows. SRC, for example, has a weighted average lease term of 10.4 years with annualized base rental revenue of $623.3 million.
Its BBB credit rating might not be at the level of Realty Income or NNN. But the company has continued to gain strength since spinning off weaker assets in 2018.
Its forward annual dividend is just $2.55, representing a forward AFFO payout ratio of 78.3% in Q1-22. So again, the dividend is well-covered.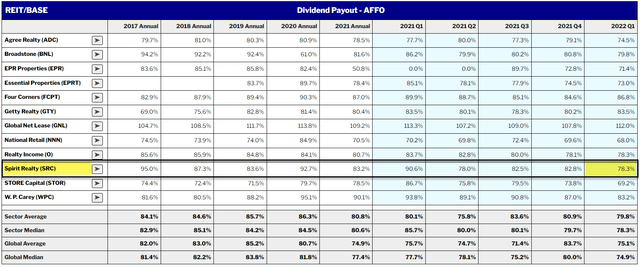 That dividend safety is also illustrated below, using the REIT BASE scoring model. SRC scores in the lower third of the iREIT 100 list based on safety.

It's currently projected to generate AFFO of $3.31 in 2022, which equates to an 11.8x forward p/AFFO. Over the past five years, that figure has been closer to 12.8x, presenting a very sizable discount compared to Realty Income.
Realty Income deserves to trade at a premium, but the current gap is larger than it should be.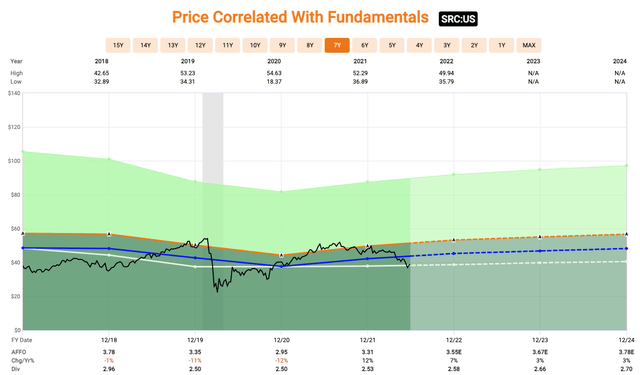 Net-Lease REIT #3: STORE Capital
Our final net-lease REIT today is STORE Capital Corporation (STOR) – the one competitor that can go toe-to-toe with Realty Income.
STORE Capital has only been public since late 2014. But it hit the ground running with a superb management team formerly led by my good friend Chris Volk.
Chris left the company at the end of 2021, and shares have been under heavy pressure ever since. They're down almost 25% year-to-date. That makes sense considering how many people invested on STORE because of him.
The company is now led by Mary Fedewa, who co-founded it but doesn't have any prior CEO experience. She does have big shoes to fill, but she's no fill-in. Don't discount her like that.
As for STOR itself, it consists of nearly 3,000 properties across these various industries:
Service (64%)
Manufacturing (20%)
Service-oriented retail (16%).
Once again, we're looking at a well-diversified portfolio of properties and tenants, with 573 different customers. And no single customer accounts for more than 3% of its total annual base rent.
Here are its top 10: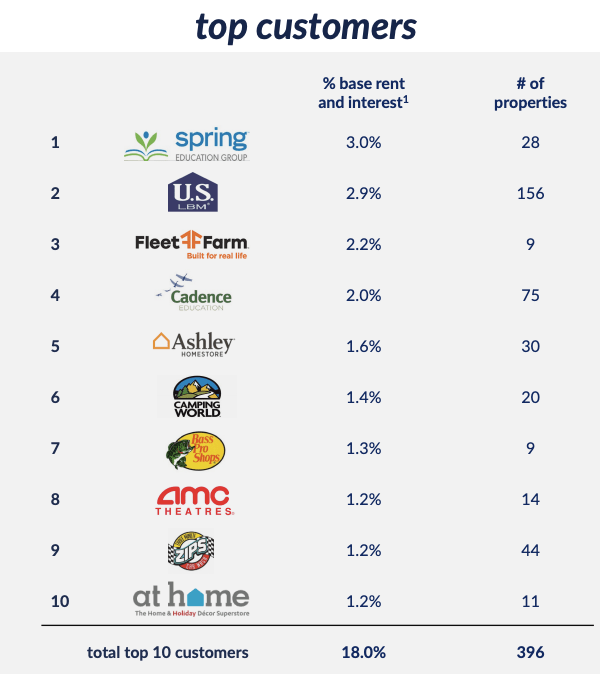 One major area where STOR differentiates itself from Realty Income is in its more middle-market focus. O, meanwhile, trends toward large investment-grade tenants, which might make it seem less risky.
But STOR reviews property-level financials for tenants prior to working with them. This allows it to mitigate risk in a huge addressable market.
So far, it's maintained a fortress balance sheet with a BBB credit rating. No major debt is due until 2024.
STORE has also increased its dividend every year since going public. And it's done so at a much quicker pace than that of its competitors.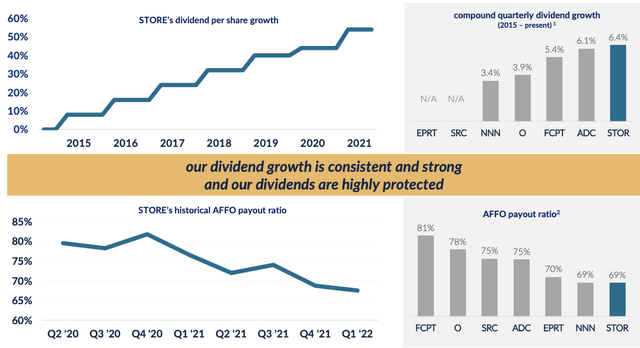 STOR's compounded quarterly dividend growth rate is 6.4% and growing… all while its AFFO payout ratio is decreasing. Just one more point that proves its stability.
The company has a current AFFO payout ratio of 69.2%…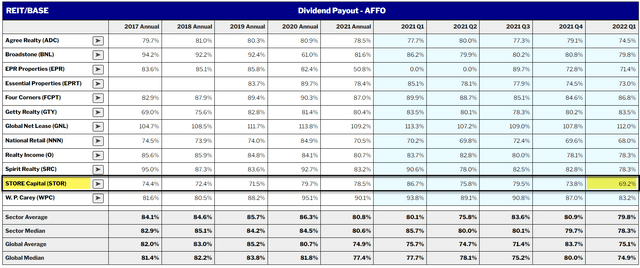 And, as viewed below, its dividend safety score is 8.031.

Analysts expect AFFO to be $2.22 at year's end, which equates to a 12.2x forward p/AFFO. Over the past five years, shares have traded closer to 16.9x.
In Conclusion…
I want to end by reminding investors not to get outside of their "circle of competence." Those who do can easily find themselves in big trouble.
At iREIT on Alpha, we cover REITs and business development companies ('BDCs') at a granular level. Because we understand them. And within these categories I have a deep passion for net-lease REITs.
To quote Munger again:
"Warren [Buffett] and I have skills that could easily be taught to other people. One skill is knowing the edge of your own competency. It's not a competency if you don't know the edge of it. And Warren and I are better at tuning out the standard stupidities. We've left a lot of more talented and diligent people in the dust just by working hard at eliminating standard error."
Those are words worth repeating. And taking to heart.