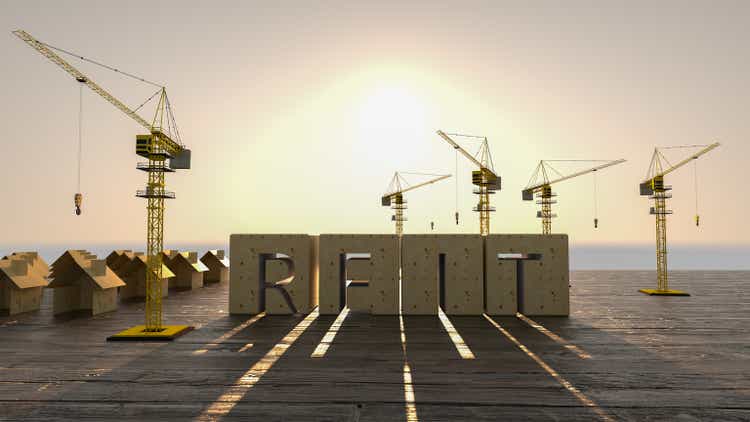 Alexander's Inc.
Alexander's, Inc. (NYSE:ALX) is a real estate investment trust (REIT) which leases, manages, and develops properties primarily in the retail segment. The company's portfolio comprises retail and office properties located in metropolitan and suburban areas of New York City. Alexander's major tenants include financial institutions, fashion and accessories stores, toy shops, homeware and furniture stores, and department stores. The company generates revenue from leasing to tenants, and rents generated from parking spaces. The majority of consolidated revenue is derived from tenant leases.
Alexander's activities are conducted through its manager, Vornado Realty Trust (VNO). ALX has 6 properties in the greater New York City metropolitan area consisting of – 731 Lexington Avenue office and retail (including Bloomberg, L.P.'s world headquarters), the Rego Center complex in Rego Park, Queens, including the Rego Park I, II, and III retail properties and The Alexander apartment tower, and a retail property located in Flushing, NY. By the beginning of May 2022, ALX had a utilization of just 46 percent.
Rentals and FFO During Q1 2022
During Q1 2022, ALX's fund from operations (FFO) grew by 22 percent, primarily due to rent commencement on new office and retail leases. Retail leasing activity in the first quarter consisted of six lease contracts totaling 20,000 square feet with average starting rents of $172 per square foot. All these lease contracts have long term maturities. The company has an active pipeline and strong interest in the Penn district in particular.
However, it is struggling in the office market. In Chicago, the office market continues to be challenged with direct vacancy and historically high levels of concessions provided to tenants. Still, almost 0.15 million square feet of new leases have been finalized in Q1, 2022, including an 81,000 square foot of Avant's (a lending FinTech company) headquarter and a 34,000 square foot renewal of Steelcase's showroom. The company also has almost 70,000 square feet of leases in negotiation. In San Francisco, although the overall vacancy rate is 15 percent, 555 California is almost 97 percent occupied.
Dividend Yield
Alexander's, Inc.'s market price has been in a steady fall over the past five years. Price dropped by almost 45 percent. Prior to that the share traded around $400 for several years. The falling prices resulted in a relatively higher yield. The average yield over the past four years is little over 6 percent, and it has generated a yield in the range of 5 percent to 7 percent. The yield over the trailing twelve months (TTM yield) is 7.8 percent. Without a doubt, this REIT is trying to generate high yield for its investors.
This commercial REIT has paid regular quarterly dividends since 2010. The company made a steady growth in the pay-out, and despite such drastic impact of covid-19 pandemic, it has been able to continue with the same pay-out. At present the pay-out is marginally more than its FFO. This denotes a small part of its dividend is financed from capital, primarily from the sale proceeds of office properties. The company also possesses a high degree of liquid assets of $4 billion, including $1.8 billion of cash, restricted cash and investments in US treasury bills.
Impact of Inflation, Interest Rates, and Looming Recession
Commercial real estate, such as retail spaces, hotels, and office buildings, takes years to be developed and operationalised. In case the demand for retail spaces shoots up, as happened at the end of 2021, rent of retail properties shifts upwards, as it is not possible to meet the supply in the short term. Also, the properties are likely to witness full occupancy. This is what happened to Alexander's, Inc. The company has retail properties and parking spaces in prime locations, which surely will continue the steady flow of revenues.
Office REITs, however, are having a difficult time due to the rising popularity of the work from home options. Alexander's, Inc. is already facing a low occupancy, as well as prospective lease termination in the coming years. The present value of the estimated additional lease liability is expected to reduce Alexander's earnings by $21 million this year. With the current market volatility and rising interest rates, the financing markets are also in an uncertain situation.
However, the good news is that ALX doesn't have significant debt maturities in the next two years. The management also expects to earn more on their cash balances as rates increase, and are optimistic that FFO per share growth for the year to be in the mid-to-high single digits. The company also initiated the disposal of the Long Island City office building for $173 million and planned to dispose of another $750 million in coming years.
Investment Thesis
The covid-19 pandemic had an immense setback for the office properties and a relatively lesser impact in the retail spaces. However, Alexander's, Inc. is just coming out of the bottom. During the larger part of 2020, there was no demand, no tours, no interest in prime retail and office properties. That scenario surely has improved. There is now a fair amount of demand, and the management is looking quite confident about a steady demand as well as higher rental per square feet. However, that can only happen in the long run, as in the short run, such huge vacancies will get absorbed at low rents.
The dividend yield is high primarily due to falling prices. Despite that, the FFO fails to completely cover the pay-out. A mid-to-high single digit FFO growth will not be good enough to sustain the current level of yield in case the price moves up, even by a very low percentage. In case the yield falls, this stock will hardly generate any interest among investors. No doubt, the management is doing its best to achieve the maximum value out of the existing properties. But, the market condition doesn't seem to be conducive. The risks involved with investing in Alexander's, Inc. seems quite high. Under such a high level of uncertainty, it will be wiser to stay away from this stock.