Successive Australian governments at the federal and state level have placed too much emphasis on stimulus measures to help first-home buyers enter the property market, according to a new report.
The Australian Housing and Urban Research Institute's study said housing policy for the last two decades had focused too much on "demand-side" levers while doing very little to increase supply.
Housing affordability is a constant headache for prospective homeowners who have to contend with the ever-increasing cost of owning a property—the value of Australia's housing market reached new heights in March after it breached the $10 trillion (US$6.95 trillion) mark for the first time.
The study compared Australia's housing policy with those of seven developed nations: Canada, Finland, Germany, Ireland, the Netherlands, Singapore and the United Kingdom.
It found that since 2001, governments have spent over $20.5 billion on initiatives such as grants for first home buyers, tax concessions on stamp duty, and changing the rules around mortgage lending (to make it easier for home buyers to obtain a loan).
An Unbalanced Approach That Pushes Up Prices
The team said demand-side policies had increasingly been adopted prior to the COVID-19 pandemic—when federal spending spiked—with around $1.2 billion worth of assistance in 2016 growing to $3 billion in 2020.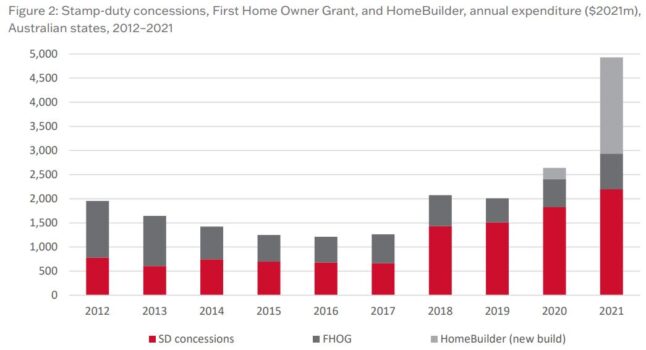 "These measures simply add to demand and push up property prices, and the amount of public funds spent on these schemes is huge," according to Chris Martin of the City Futures Research Centre at the University of New South Wales.
"Unlike most of the international comparison countries, Australia stands out, as it overwhelmingly uses demand-side instruments and lacks a strategic framework," he said in a press release.
"And unlike countries such as Finland and Singapore, Australian governments have resisted prioritising first homebuyers' genuine interests by reforming tax settings that favour their housing market competitors: established homeowners and would-be rental investors."
Each year, around 92,000 first home buyers enter the Australian housing market, comprising around 20 percent of total annual property transactions.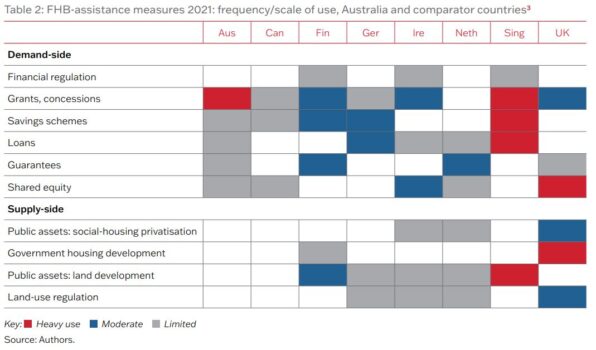 The report stated that the focus on demand-side policy was politically driven and not a viable long-term approach for dealing with the housing market.
"Indeed, pursuit of such approaches may serve as a form of displacement activity: a distraction from the need to countenance the much more far-reaching reforms needed to fundamentally enhance home-ownership affordability."
Experts Call for Public Housing, Less Regulation
Cameron Murray, economist and research fellow at the Henry Halloran Trust, has advocated for Australia to adopt Singapore's public housing policy and run it alongside the current real estate market.
"We know by looking around the world—at the experience of countries that have boosted homeownership and provided stable housing—it requires some kind of public intervention to create a non-market priced housing, whether that's mass social housing or housing for returning veterans," he told The Epoch Times.
Singapore's Housing and Development Board builds and sells units to eligible residents below market rates and limits resale to other eligible buyers—placing a controlling mechanism on the market. As a result, around eight in 10 Singaporean residents live in government-built flats. Murray has suggested an Australian version of this strategy called "HouseMate."
Meanwhile, economist Peter Tulip of the Centre for Independent Studies has called for planning restrictions to be eased so higher-density buildings can be built in parts of the major cities.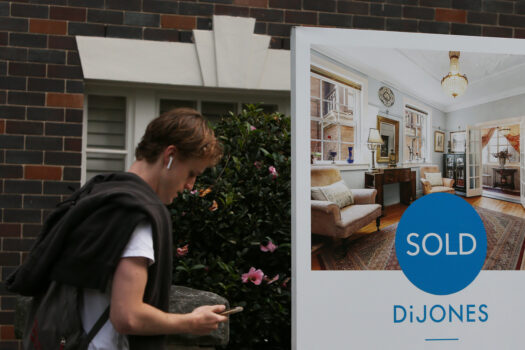 "Restrictions are estimated to raise the cost of a detached house by 73 percent in Sydney, 69 percent in Melbourne, 42 percent in Brisbane, and 54 percent in Perth. Restrictions raise the cost of the average apartment by 68 percent in Sydney and 20 percent in Melbourne," he wrote in The Epoch Times previously.
Recent figures revealed more Australians were now paying mortgages and taking longer to pay them off—a side-effect of increasing prices.
"Over the last 25 years, the number of homes owned outright has increased by 10 percent, while the number owned with a mortgage has doubled," according to Teresa Dickinson, deputy statistician at the Australian Bureau of Statistics.
Recent interest rate rises by the Reserve Bank of Australia have helped to cool the housing market in parts of the major cities—yet demand remains high in more affordable areas. However, government moves to open up more migration over the next few years could counteract the Reserve Bank's strategy.