Foreign buyer activity is at a five-and-a-half year high in the new builds sector of the Aussie property market.
Research shows that migration in New South Wales has played a large part in the buying boost of freshly-constructed properties among foreign purchasers.
The National Australia Bank's Quarterly Australian Residential Property Survey for Q3 2023 found increasing migration and overall confidence in the market, despite persistent interest rate rises, have met a long-time imbalance of supply and demand.
"Expectations for a housing market recovery over the next few years have also strengthened, with confidence levels among surveyed property professionals rising to their highest levels in around two years," the report, released in late October, said.
"NAB's latest survey results also suggest foreign buyers have been playing an increasingly bigger role in Australian housing markets in recent quarters."
READ MORE: Brunswick home that starred in TV ad sells for $2.3 million post auction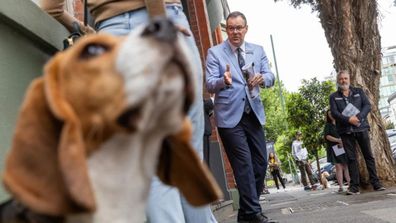 NAB expects the Reserve Bank to bump the cash rate to 4.35 per cent in November.
The bank's research found the total market sales for new homes to foreign buyers went up for the fourth quarter in a row to land at 10.1 per cent.
This level is at a five-and-a-half year high, above the quarterly survey average for the first time since 2018.
NAB put it down to migration into NSW, which has the greatest share of foreign buyer activity, at 14.9 per cent for the third quarter of the year (compared to 9.2 per cent in the previous three months).
Foreign buyers inking contracts for new homes were also increasingly prolific in Victoria, with 11.3 per cent of the market, compared to 7.4 per cent in the second quarter of the year.
For established properties, foreign buyer activity is at its greatest in four years, hitting 4.1 per cent of the market in the third quarter. Every state registered more foreign buyers for established homes, with the majority in Victoria (5 per cent).
READ MORE: Star cricketers Alyssa Healy, Mitchell Starc to sell the house that Jennifer Hawkins built
The report follows findings by Domain in its September 2023 House Price Reportthat record or rising prices in some capital cities are due in part to migration.
Interstate and international migration into Melbourne and Perth have stoked those markets, Domain's chief of economics and research Dr Nicola Powell found.
Melbourne is second-most expensive city to buy a unit in (behind Sydney) because of the entry price point for that type of real estate, compared to more expensive, standalone houses. This is a surge that saw Melbourne replace Canberra for second spot.
Dr Powell considered affordability a key factor in the Victorian capital's unit market, which registered the most powerful six months of growth in four years, and overseas migration – apartments are more affordable than houses – could be part of that demand.
READ MORE: Melbourne's 'Mohawk' home features a sculptural external staircase that leads to the rooftop terrace
September 2023 unit median prices
Migration has also been one of the factors in Domain's national combined capitals vacancy rate holding firm at record low 0.8 per cent for the second consecutive month.
Domain's Vacancy Rates Report October 2023 also named low stock and dwindling investor activity as other reasons for the historic low rate.
"The biggest capital cities see the most immediate impacts on rental stock from overseas migration as they receive the lion's share," the Domain report said.
Among those cities is Sydney, which is also at a record tight vacancy rate of 0.9 per cent, creating a competitive environment for tenants due to the "all-time low" in rental supply, Domain found.