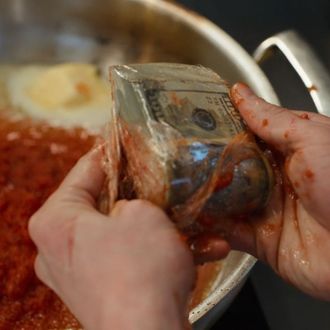 The Bear, owned by the Mouse House, streams on Hulu.
Photo: FX
Wondering what Disney plans to do with all that extra money it's been raking in after raising prices for Hulu, Disney+ and even some of its theme parks? On Wednesday, we got one answer: It's planning to write a check for at least $8.6 billion to rival media giant Comcast in order to buy out that company's silent ownership stake in Hulu. While Disney has had full operational control of Hulu since 2019, Comcast — the parent of NBCUniversal and thus Peacock — never gave up its one-third stake in the pioneering streamer. Instead, the two sides agreed to wait five years and see where things stood in the streaming industry circa 2024, and then figure out what to do. While there was some speculation last year that maybe Disney would try to abandon Hulu completely or sell its two-thirds control to Comcast, within the last few months, execs from both companies had made it clear things were going to end up with Hulu being folded fully into the Mouse House. Today's press release simply makes it all official.
But while Disney says it will fork over that $8.6 billion by December 1, there's still some finagling to be done before Comcast gives up its joint custody agreement for Hulu. Remember how we said Disney would pay at least $8.6 billion for Hulu? That's because that figure represents the minimum price for the streamer Comcast and Disney set back in 2019, give or take a few hundred million. Disney could well end up paying even more once appraisers for both companies determine what Comcast's stake in Hulu was worth as of the end of September, and then, if necessary, a third-party arbitrator settles on a final price if the two appraisals are far apart. Disney said it expects the whole process should be done by the end of next year. Until then, nothing really changes — except that, at some point soon, Disney is expected to begin letting customers who subscribe to one of the Disney bundles access Hulu programming in Disney+.