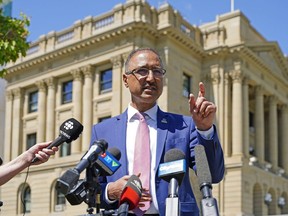 Article content
Alberta could end homelessness using part of the province's unexpected $3.9 billion year-end surplus, Edmonton Mayor Amarjeet Sohi says.
Article content
The provincial government's final fiscal update for 2021-22, unveiled Tuesday, showed record-high resource revenues led to a balanced Alberta budget for the first time in seven years. The surplus is a dramatic turnaround from when the budget was first tabled and the government forecasted a deficit of $18.2 billion.
That's left many with a range of ideas for what to do with the unforeseen cash.
In a Thursday interview with Postmedia, Sohi said it's very good news to see the province in a better financial situation, but the need for supportive housing is the most pressing issue facing Edmonton.
The city has the lowest per-capita support among the municipalities that receive provincial funding to fight homelessness, Sohi said, adding he's hopeful the province will fill that gap.
Article content
"The fiscal capacity of the province now is very strong to invest into ending houselessness and the addictions crisis that we are facing in our city, and we would still have a lot of money in that for the other priorities of the province," he said.
On Thursday, the city opened one of five new supportive housing sites that are designed with on-site services to help residents struggling with addictions, mental health challenges and other issues.
A total of 210 permanent supportive housing units are set to finish construction in the next six weeks. Most of the funding, or $35.1 million, came from the federal government, $28.3 million came from the city, and the province put $16.4 million towards one site.
Another 243 units of supportive housing in three hotel conversion projects are also expected to open this year.
Article content
However, the latest provincial budget did not provide Edmonton with its requested $8.9 million in annual operating funding to provide wraparound supports, including counselling and treatment. That means non-profit Homeward Trust will have to scale back other unspecified programs to make up for the shortfall, Sohi said.
The cost is also rising, with up to $19 million needed annually by 2024, he added.
"Our homeless population has doubled during the pandemic, and that support has not been adjusted over the last number of years."
On Tuesday, Finance Minister Jason Nixon said the surplus would be spent on things like beefing up the Heritage Savings Trust Fund and paying down the debt.
He warned that the government can't overspend the windfall so as to remain prepared for the future when oil prices won't be as high.
Article content
"It's incumbent upon us at the moment to make sure that we strategically use these resources to help Albertans through those issues right now, particularly around inflation and affordability, but do it in such a way that we don't create problems for future governments when those oil and gas prices come back down," he said.
Sohi acknowledged that resource revenue can be unpredictable but suggested the province could look at creating an endowment fund that would generate revenue and support municipalities on a permanent basis to invest in ending homelessness.
He didn't provide any dollar figure estimates of what would be required initially, but noted investment in housing would bring "huge" cost savings in health care, the justice system and policing.
Article content
"Keeping people unhoused is more expensive than actually investing in treatment, supportive housing and wraparound services," he said.
Ralph Bucks 2.0?
The province's windfall comes at a time when Albertans are dealing with dramatic cost-of-living increases, and the two are closely linked, said University of Calgary economist Trevor Tombe.
"Critically, the exact same reason why inflation is so high is why the government's budget improved so much — and that is oil prices," he said.
Similar to 2006's Ralph Bucks — when Albertans were given a one-time $400 cheque following an oil-fuelled surplus — Tombe said today's government could decide to spend some of its extra money writing cheques to families to help cover the costs brought on by inflation.
Article content
Depending on their annual household income, Albertans are paying roughly $200 to $600 a month more for goods and services due to inflation, Tombe said.
Tombe said $125 a month per family would help reduce the pain, particularly for low-income families, and be about in line with eliminating the GST.
He estimated a program like that would cost the government about $200 million a month — or about one-fifth of the extra, unexpected monthly income that the government has coming its way.
"This is simple, it can be done quickly, and it doesn't distort market choices in the same way that say, suspending the gas tax does," Tombe said.
Personal income tax relief
Others have long called for the UCP to reverse changes it made to personal taxes.
Article content
In 2019, the UCP government paused personal income tax indexation, meaning the cap for tax-free earnings doesn't move up with inflation. At the time, the government estimated it would save $600 million over four years, until the end of the 2022-23 fiscal year.
Both the NDP and the Canadian Taxpayers' Federation (CTF) have called for the government to go back to indexing personal income tax.
The government promised to resume indexing the income tax system once it is on better financial footing.
CTF federal director Franco Terrazzano said Thursday with a surplus of $3.9 billion, now is the perfect time to live up to that while also prioritizing paying down the debt.
"To the government's credit, it has provided relief through a fuel tax reduction. That's great, but the government hasn't done everything it can," he said.