The off-market sale, rumoured to be the work of Di Jones' John Sullivan, is good news for its most recent owners, Wallabies' team doctor Sharron Flahive and her husband, artificial intelligence pioneer Mark Dawson.
Clausen bought the Balmoral slopes property in 2009 for $12 million as part of a mooted 3400 square metre consolidation with a couple of adjoining properties, but that was called off following his move to Geneva, and Almora House was renovated instead.
Jewellers' bring bling to Dover Heights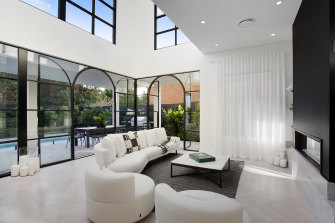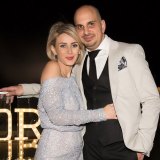 Diamond dealers Zena and Tarik K'Dor have brought some of the bling and glamour that did them proud on their former Castle Hill home to Dover Heights, where their latest creation is on offer with a $9 million guide.
The House of K'Dor owners bought what was a fairly humble 1950s bungalow near the Dover Heights clifftop in 2020 for $3.6 million and demolished it to make way for a lavishly appointed mansion with a swimming pool and opulent finishes throughout.
At the time, the couple had recently undertaken a Hamptons-meets-European glamour renovation of their Castle Hill home, which they sold later that year for $2.6 million.
The couple were familiar faces to many eastern suburbs locals before the move, given they are hosts of the annual Blanc Diamond Soiree each year that draws the likes of former WAG Kyly Clarke as well as Erin Molan and heiress Deb Symond O'Neil.
Ray White Double Bay's Alan Fettes and Ballard's Ben Cassen have set a May 28 auction for the "designer jewel".
Miner doubles down on Dover Heights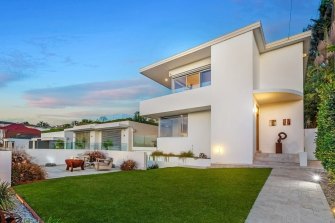 Still in Dover Heights, little-known billionaire Kie Chie Wong and his wife Ann Lim have snapped up their second house in the up-scale suburb in a year.
The couple have never previously shown much interest in Sydney's property market, instead opting to make their fortune on the back of the soaring fortunes of Andrew "Twiggy" Forrest's Fortescue Metals, as early investors in the mining giant.
But that looks to have changed in the past year, when their investment company, Harmony View, first bought a 1970s house for $6.72 million, and then recently added a contemporary five-bedroom house with a pool for $8.3 million.
Dickie says sell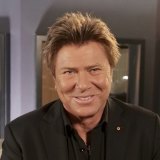 Showbiz reporter Richard "Dickie" Wilkins looks to be hoping to cash in on the peak of the property cycle, given he has listed one of his lower north shore investments for $920,000.
The veteran presenter at Nine (publisher of The Sun-Herald) has long maintained a lucrative interest in property, picking up a slew of apartments in Mosman and his own Cremorne neighbourhood in 2013.
Loading
One of those pads was a two-bedder with water views on Mosman's Balmoral slopes, for which he paid $600,000 in 2013, and which has most recently been collecting $650 a week rent.
It returns to the market with Ray White Lower North Shore's David Gillan and Chris Lapham for $920,000.