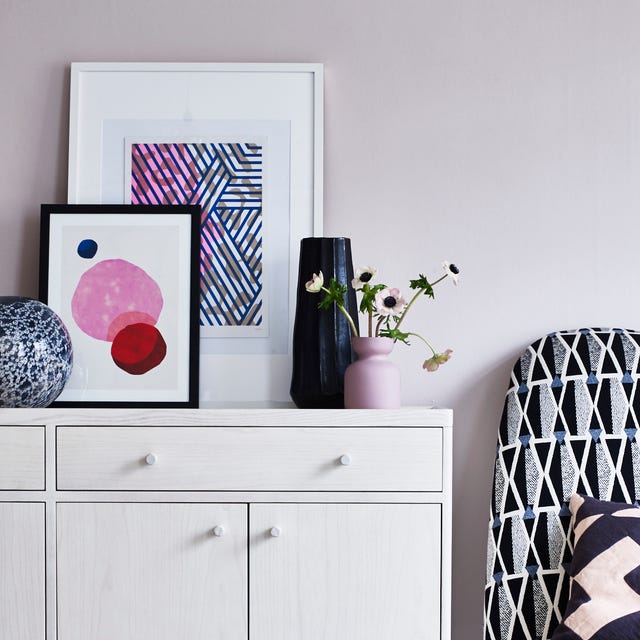 House Beautiful/Carolyn Barber
The home staging industry has boomed in the last few years and with the property market showing no signs of slowing down (Rightmove reports a 19 per cent increase in the number of people requesting home valuations), home staging experts have never been more in demand.
Put simply, home stagers will redecorate, re-style, move furniture, clean and everything in between in order to present your home in its best light to potential buyers.
Elaine Penhaul, an interiors expert and owner of the award-winning national home staging company, Lemon and Lime Interiors, shares her top five tips for staging your home for a successful sale in 2022.
Remove personal items
Buyers naturally try to envision their own furniture and belongings in a house when they view it – decluttering and tidying away personal trinkets, knick-knacks and family photographs can help them with this. It's also good practice to tidy away any children's toys and play areas, ornaments and collectables that might not suit another buyer's taste.
Make your rooms work harder
Room sizes can go one of two ways – if your room is small, you'll probably try to think of ways to make it look larger, but on the other side of the spectrum, if your room is too big it can overwhelm potential buyers. 'Carefully curated light sources, mirrors, paint tones and plants can make a small room feel much bigger,' says Elaine. 'Placing a mirror opposite a window can help lengthen a room and the reflection creates more light which brightens darker and smaller spaces.'
For those of you with large rooms, look to fill the space with furniture – but make sure it fits and looks inviting. 'The space should always showcase the dynamic of the room; for instance, an open plan living room could have a cosy corner with a convertible shelving unit that is perfectly set up with a functionable desk and seating for working from home,' Elaine explains.
Remove signs of pets
Of course, many of us think our four-legged pal is the cutest thing ever, but not everyone will agree. Whether it's a fear of dogs or perhaps an allergy to cats, it pays to remember that not everyone is keen on our furry friends, so getting them off the premises when a viewing takes place is advised. The same applies to more unusual pets such as snakes, spiders and rats.
Bad odours are another potential put-off for buyers. You're probably accustomed to their scent, but make sure all litter trays are emptied, gardens are clear of any waste and surfaces are deep cleaned to remove any 'pet' smells.
Look for quick fixes
A little DIY could help to speed up the selling process – and ensure your home achieves the price it deserves. Although not everyone will have the budget or desire to replace an entire bathroom for example, little things such as refreshing stained or discoloured grout in between tiles can easily be done with a bit of bleach and a grout pen.
If you live in a period property, be sure to highlight any original features such as an original tiled floor or a stone fireplace. Finally, don't forget those all-important fixtures and fittings. Ensuring cupboard doors are screwed in tightly, refreshing the skirting with a lick of paint and even changing outdated door handles could improve your property's appeal and value.
Let the estate agent do their job
Our final point may sound obvious but it's a valid one – let your estate agent do the talking. Elaine explains: 'While DIY stories are charming, one seller's pride and joy about building a kitchen cabinet 20 years ago that still stands today, is a potential buyer's realisation that the kitchen needs a complete re-fit – automatically knocking £10K off their offer price in a jiffy.' Best to leave it to the professionals.
Follow House Beautiful on Instagram.
---
This content is created and maintained by a third party, and imported onto this page to help users provide their email addresses. You may be able to find more information about this and similar content at piano.io