Article content
The industrial dreams of St. Thomas may prove a nightmare to the surrounding agricultural community, one farmer says.
Article content
City hall has amassed an 800-acre (320-hectare) parcel of land for industrial use, in hope of wooing an automotive electric-vehicle battery manufacturer believed to be looking to locate in Ontario.
But that will see some of the best farmland in Ontario, and the cash crops now planted on it, paved over, said Tom Martin, a farmer who lives on Edgeware Line, near the site. He points to large tracts of land by Highway 401 in Southwold Township, near where Amazon is building a fulfilment centre, that is not farmland and would be ideal for industry.
"Why are we taking prime agricultural land when there is land nearby that has been abandoned by farmers that is not prime land?" Martin said.
The City of St. Thomas and its economic development office moved in secrecy to acquire the land, forcing sellers to sign non-disclosure agreements so they cannot discuss the purchase now, and some felt pressured to sell and were threatened with expropriation of their property, he said.
Article content
"It was slimy, it was underhanded," he said. "They took agricultural land away in secret. Why did we not debate or discuss this?"
Municipalities and their economic development agencies often have to acquire land by stealth, so as not to inflate land values when spending tax dollars, said Sean Dyke, chief executive of the St. Thomas economic development agency.
"I understand the concern, but it's the natural direction of a city to grow," he said.
This land is immediately adjacent to the St. Thomas industrial park making it a natural fit, Dyke said.
"Everywhere we are now, where we work, used to be something else," he said. "We do need farmland and food products, but we also have to accommodate for the growth of our community."
Article content
As for the size of the land assembly, it appears to be what is needed as industrial demand soars across Ontario. Dyke points to the Toyota plant in Woodstock that sits on 1,000 acres (400 hectares). "We're trying to have the right place for investments. We have had inquires for 1,000 acres," he said. "This could be an investment that's good for the whole region."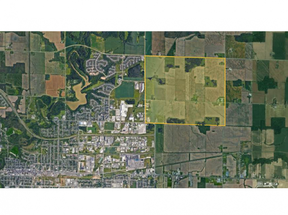 The land is near the city, mostly west of Highbury Avenue, north of Edgeware Line, south of Ron McNeil Line and west of Yarmouth Centre Road. There is a large portion, about 300 acres (120 hectares), south of Edgeware Line.
Earlier this year Stellantis and South Korean battery maker LG Energy Solution announced they will build Canada's first large-scale vehicle electric battery plant in Windsor, a $5-billion investment that will employ about 2,500 with full production expected by 2025. The 4.5-million-square-foot (400,000-square-metre) plant will be located on more than 200 acres (80 hectares) of land.
Article content
In April, Ontario Economic Development Minister Vic Fedeli said the provincial government is in talks with several electric vehicle battery manufacturers to open another plant in this province, and it has been reported Ford of Canada is looking to build an EV battery plant here with an industry partner.
Martin has a 400-acre (100-hectare) farm where his family has been since the 1950s. He believes there is growing concern in the area about the loss of farmland as well as the impact a major industrial development will have on property values.
Much of the land purchased is in Central Elgin and Martin questioned how St. Thomas can buy Central Elgin land for its own industrial use.
St. Thomas Mayor Joe Preston said he will work with Central Elgin to negotiate a revenue-sharing agreement, but said annexation is also an option if needed.
Article content
"We are working on an agreement right now and that is about as much as I can say," Preston said.
Central Elgin officials, including Mayor Sally Martyn, declined comment, saying the Ontario government has ordered Preston to be spokesperson on the matter.
"It may be partnership or annexation, or all of those things. We will find a way that works," Preston said.
While Preston was sympathetic to area farmers' concerns about the loss of agricultural land, he said he can buy only land adjacent to his community.
"I can only look at the borders that are attached to St. Thomas. I am not the mayor of Southwold Township," Preston said.
"But we think this is the best spot. There will always be an argument about why it should go somewhere else, but this is the sweet spot."
The Ontario Federation of Agriculture shared Martin's concern. According to the 2021 census, Ontario is losing on average 319 acres of agricultural land a day. In 2016 the province had 12.6 million acres of farmland; it now has 11.7 million acres.
"We understand the province needs to accommodate growth. All the OFA is saying is build in the right places, using long-term strategies," said federation spokesperson Tyler Brooks.
"If they sell off farmland, it will affect our ability to supply the food chain. We will be reliant on other countries."
ndebono@postmedia.com