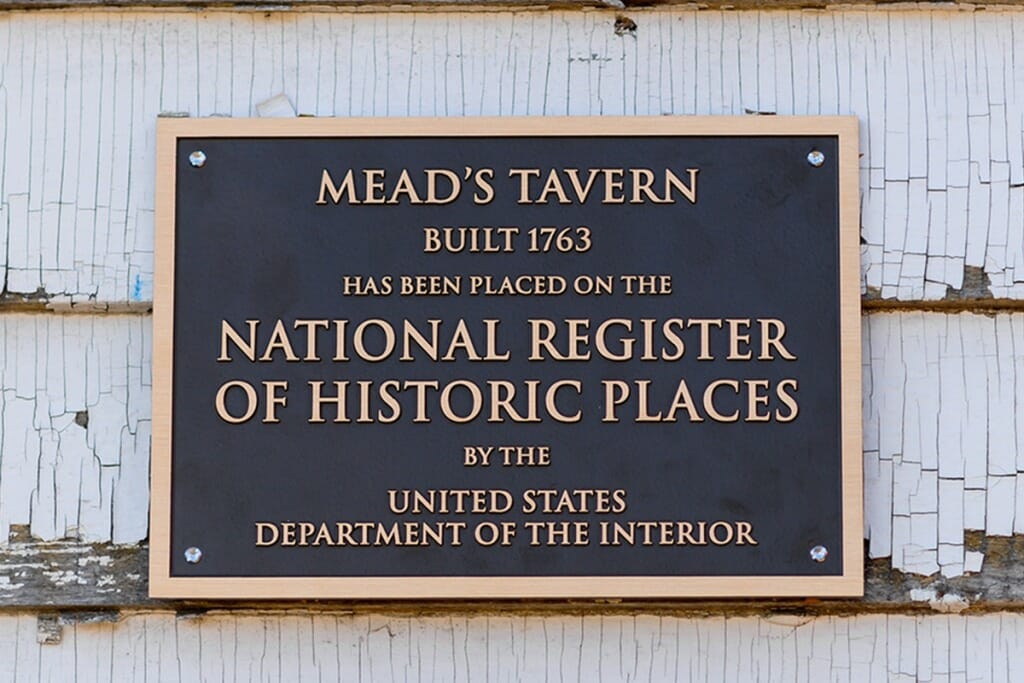 The afternoon of Thursday, Feb.10, served as a time of recognition for the work by Liberty University over the last seven years to preserve a significant part of our nation's history. A plaque was installed at the colonial-era property of Mead's Tavern, designating it on the National Register of Historic Places.
Built in 1763, Mead's Tavern is the oldest standing structure in Central Virginia and once served as an ordinary that provided meals and a night's stay to travelers in the town of New London. The building was later turned into a school and doctor's office before becoming a private residence by the mid-1800s
Recognition by the National Register has been a goal for Liberty since the university purchased the property in 2015, according to Director of Public History Initiatives Donna Davis Donald. Liberty has used Mead's Tavern as a living history lab, conducting archaeological surveys and restoration projects with the help of local archaeologists. Also, during the annual New London Day, Liberty partners with the local nonprofit preservation group Friends of New London to educate visitors about the town's rich history.
"We knew from the outset that this was a historically important site, but it's not easy (to get on the National Register)," Donald said. "It has to qualify by meeting specific criteria, so it's an important milestone in the development of this historic site, but it's certainly not the endpoint. I see this as a milestone toward what we want, which is making this site useful for student research and education, as a service to the community, and also to preserve it for posterity and keep the history of New London alive."
In addition to Liberty faculty, students, and staff, Thursday's ceremony also welcomed members of the Friends of New London and Campbell County Historical Society to commemorate the achievement.
"Under Donna's leadership over the years, we've offered courses in public history, historic preservation, and historical archaeology, and it has been fascinating to see students digging in the earth or looking through the tavern to see what they can do here," said Roger Schultz, Dean of the College of Arts & Sciences. "There are a number of things that New London is significant for, and we are delighted to have been a part of it, both with the work at Mead's Tavern and at the Bedford Alum Springs Hotel."
(Liberty purchased the former hotel property, located near Mead's Tavern, in 2018; a Revolutionary War arsenal is believed to have been on the site.)
"This site has been very special for our department. I'm so grateful for the people who have worked hard to keep this project going," added Department of History Chair Samuel Smith. "It has been so valuable to our students, and I'm glad that we can gather here for the unveiling today."
Donald said a preservation plan is in development and the university hopes to apply for grants to fund the work at both sites.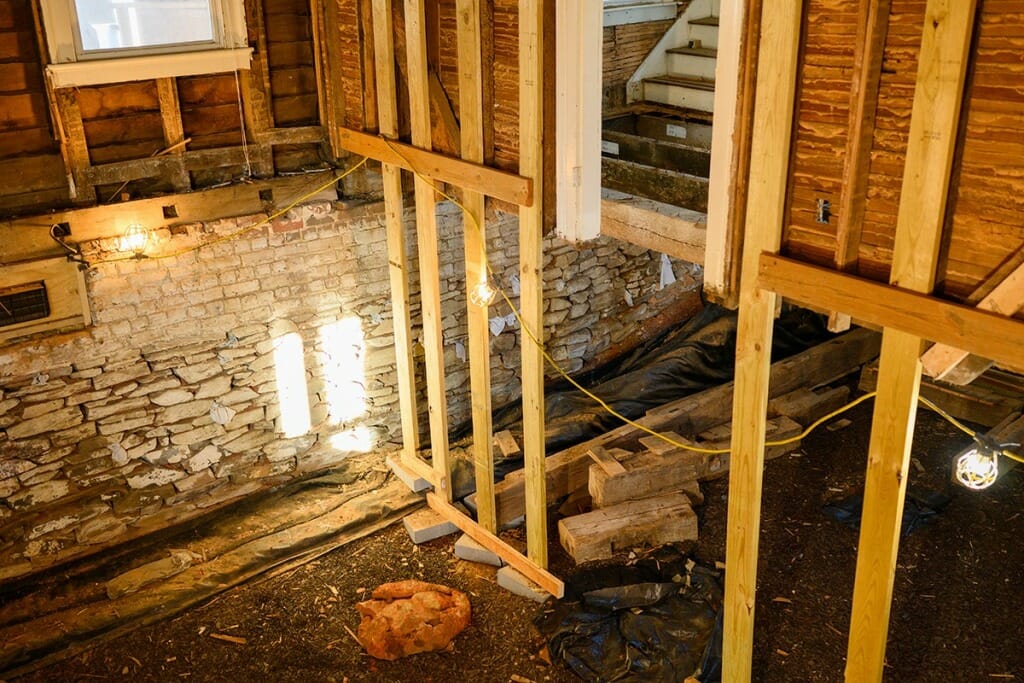 Donald added that having Mead's Tavern recognized by the National Register will likely give the grant applications more credibility.
"When you make a grant application for something and you say it's a National Register property, you don't have to make the case; they know it's been through that rigorous process and it's not going anywhere, that its significance is already established," she said.
The current work at Mead's Tavern has involved stabilizing the foundation and restoring the front wall, which is believed to be the oldest intact brick wall in Virginia west of Richmond.
"They're replacing the old beams with beams that will be of a similar type of wood and use the same construction method, so it's a pretty extensive project," Donald said. "We're saving the pieces that are being removed that can be salvaged for interpretation and other uses."
Students from Donald's Introduction to Historic Preservation course have visited the site multiple times this spring semester and have observed archaeologist Randy Lichtenberger and his team, who have conducted many of the on-site surveys, as they uncovered artifacts in real-time and explained their findings. They have also interacted with historic architect Barry Rakes, who has been heavily involved in the Mead's Tavern project since 2016.
Follow the progress at Mead's Tavern and other university initiatives on the Public History at Liberty University Facebook page.