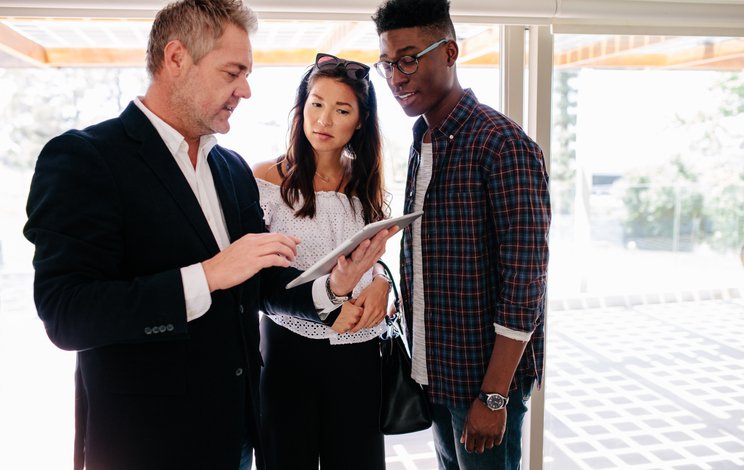 Buyers may get some relief — but only temporarily.
---
Key points
After rising sharply all year, mortgage rates dropped substantially last week.
Potential buyers may want to act quickly to lock in loans while they're more affordable.
---
There's a reason 2022 has been such a challenging year for potential home buyers. Not only have property values been sky-high, but mortgage rates have risen sharply since the start of the year. In fact, the average 30-year mortgage rate has surpassed the 6% mark on more than one occasion this year, and that's forced a lot of would-be buyers to put their plans on hold.
But last week, mortgage rates actually dropped at their most rapid pace since December of 2008. And while rates are still higher than they were at the start of the year, they're much more attractive now than they were a month ago. 
That's why it pays for buyers to lock in a mortgage sooner rather than later. Those who wait could lose out on an opportunity to set themselves up for more affordable payments.
Affordability just rose 5%
Thanks to plunging mortgage rates, buying a home is now about 5% more affordable than it was a week ago, according to the National Association of Realtors. In fact, compared to where rates sat a week ago, today's rates could result in savings of around $100 a month on a typical home loan payment.
That's a big deal, because this is really the first time all year that mortgage rates dropped by a notable degree. This isn't to say that they haven't dipped modestly at times. But now, the average rate on a 30-year mortgage is around 5.3%, which is a far more attractive rate than the average 5.7% rate borrowers were looking at a week ago.
Are you ready to apply for a mortgage?
If you've been in the process of house hunting, right now could be a good time to lock in a mortgage — before rates climb. But are you ready to take that leap?
As a general rule, your monthly housing costs should not exceed 30% of your take-home pay. And those housing costs should include not just your mortgage payments, but also, inevitable expenses like homeowners insurance, property taxes, and, if applicable, HOA fees. If you crunch the numbers, you may find that you can afford to take out a mortgage, especially with rates being down. 
But affordability isn't the only thing to consider. You should also make sure you're in a strong enough financial position to qualify for a home loan. That means having a good credit score, a reasonable debt-to-income ratio, and a high enough income to support the mortgage you're looking to take out.
Also, while different lenders have different requirements with regard to down payments, putting less than 20% down on a conventional mortgage will mean having to pay private mortgage insurance (PMI). That's a costly premium you may want to avoid, especially at a time when home prices are still high and mortgage rates aren't exactly low. 
Will lower mortgage rates persist?
Probably not. The Federal Reserve intends to move forward with more interest rate hikes, and that, in turn, will likely trickle down to consumer borrowing rates. Granted, it may take some time for the average 30-year loan to reach the 6% mark again — and that's all the more reason to act quickly if you're looking to buy a home.
Today's rates aren't a bargain, but they're far more affordable than some of the rates we've seen over the past month or so. And so if you're serious about becoming a homeowner this year, now's the time to act.
The Ascent's Best Mortgage Lender of 2022
Mortgage rates are on the rise — and fast. But they're still relatively low by historical standards. So, if you want to take advantage of rates before they climb too high, you'll want to find a lender who can help you secure the best rate possible.
That is where Better Mortgage comes in.
You can get pre-approved in as little as 3 minutes, with no hard credit check, and lock your rate at any time. Another plus? They don't charge origination or lender fees (which can be as high as 2% of the loan amount for some lenders).