Real estate investors and developers across Europe are focusing increasingly on green bonds to build portfolios of sustainable assets that allow for lower resource consumption in the long term and have a limited impact on the environment. 
This trend is also evident in the Central and Eastern European region, where an increasing number of large companies are choosing to finance their expansion plans with green bonds. In short, green bonds are fixed-income securities that companies can issue to fund investments that benefit the environment.
Companies across Europe sold $53.37 billion worth of green bonds in Q2 2021, up 30% year-on-year, according to data from S&P Global. Proceeds from the sales of such bonds can be used for green buildings or renewable energy projects. Banks can sell these bonds to provide green loans for sustainable projects or companies can tap the bond market to fund their own investments.
Certain indicators have to be reported by companies that fund projects via green bonds such as the estimated annual energy savings and reduction of carbon emissions, or the amount of energy covered from renewable sources.
Both lenders and property companies see room for green development in CEE, where the real estate sector potentially accounts for up to 50% of total energy consumption, according to European Bank for Reconstruction and Development (EBRD) experts. Across the EU, buildings account for 40% of total energy consumption and 36% of carbon emissions.
"As a developer nowadays, it is essential to deliver green projects in urban areas, to meet tenant demand (lower operating and maintenance cost) and to stay in line with regulatory requirements. The value of green projects is more sustainable and being also an investor, we leverage on higher demand for these assets. Green projects also manage to attract high interest from the financial market," says Ohad Epschtein, President of Alfa Group International, a company set to issue its first green bond later this year.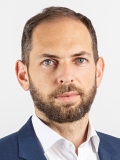 Ohad Epschtein
Managing Partner
Alfa Group International
As Managing Partner of ALFA Group since 2007, Ohad is responsible for the project financing and investment management strategies of the Group. Prior to joining the Group, he's had extensive experience in renewable energy developing numerous wind energy projects. After graduating with a Bachelor's degree from the London School of Economics and a Master's degree at Bocconi University in Milan in Environmental Economics, he has worked for Bocconi's interdisciplinary research centre IEFE benchmarking various sources of renewable energies.  More »
Funding green property portfolios
The EBRD has been spearheading efforts to finance green bonds issuances in Central and Eastern Europe. Last April, the bank invested €67 million in a green bond sale of industrial and logistics developer VGP. The company aims to reach net carbon neutrality by 2025 and sold €600 million worth of green bonds.
In Romania, the EBRD has successfully subscribed to a €24.7 million ticket as part of an inaugural €300 million green bond issuance by MAS Real Estate. The company is jointly developing several retail and residential projects in Romania with Prime Kapital. Last May, the EBRD also invested €11 million in green bonds issued by Raiffeisen Bank Romania. In total, the bank raised €81 million from the bond sale that will back climate and environmental projects.
The EBRD has been increasing its exposure in sustainable projects in recent years and has an ambitious target to reach more than 50% of green investments in its portfolio by 2025.
In late June, the EBRD has invested €42.5 million in a €500 million green Eurobond issue by industrial and logistics developer CTP to support its portfolio expansion. CTP is committing to reduce greenhouse gas emissions in its supply chain. It will also further enhance its climate governance and disclosure practices, which will directly influence its operations and development activities and address sustainability and climate change issues. Last year, the company secured more than €1 billion from the sale of green bonds.
At the start of this summer, Globe Trade Centre (GTC) has successfully issued a debut unsecured green bond for €500 million. The property group plans to achieve 100% green certification for all of its properties in CEE. At present, 84% of GTC's income-generating portfolio worth €1.9 billion carries green certifications.
Last spring, Hungarian developer Futureal has completed its first-ever green bond issue as part of the National Bank of Hungary's (MNB) Bond Funding for Growth Scheme (BGS). The developer sold around €150 million worth of bonds as it works on projects with a gross space of more than 1 million sqm in Hungary.
Later this year, another Hungary-based investor with a long track record is joining the list of companies that turn to green bonds. Alfa Group International plans to raise €27 million (approx.. HUF 9,5billion) at its inaugural green bond issue in November 2021, the first under the company's newly established  Green Bond Framework.
"With the issuance of the Alfa Green Bond, we are providing investors the opportunity to support our objective to mitigate climate change globally by reducing greenhouse gas emissions through our renewable and circular solutions and raise the funds that would be used by our group for development and investment in green projects within our region," adds Ohad Epschtein, President of Alfa Group International.
Green bonds support the emerging ESG market
Green bonds are one of the emerging products that target the Environmental, Social, and Corporate Governance (ESG) initiatives of companies.
Will Robson, Executive Director and Global Head of Real Estate Solutions Research at MSCI, recently told Property Forum in an interview that "a lot of attention being paid to assessing portfolios and understanding the level of carbon emissions across buildings, which is followed by setting a plan to reduce them over time. ESG is a very broad topic area. It includes clean environmental matters, but also social and governance issues. I would say climate is at the top. So, within the environmental pillar, a lot of the focus is on the transition risk, around carbon emissions and aligning with net-zero strategies."
"For us a green bond is an investment in the future, guaranteeing that only investments that have positive impact on the environment or climate are financed. We are happy to offer new homes, office buildings and logistics center to tenants, and we work with thousands of people to help the environment." says Ohad Epschtein.
Green investments are estimated to grow in the next decades as economies across the globe look to curb emissions. The Boston Consulting Group forecasts that annual investments of $3 trillion to $5 trillion are needed in the 30 years through to 2050 to reach zero emissions. Europe is one of the leaders in this field as it has already set a standard in the green bonds market, with Germany being the larger seller of these bonds in the second quarter of 2021.