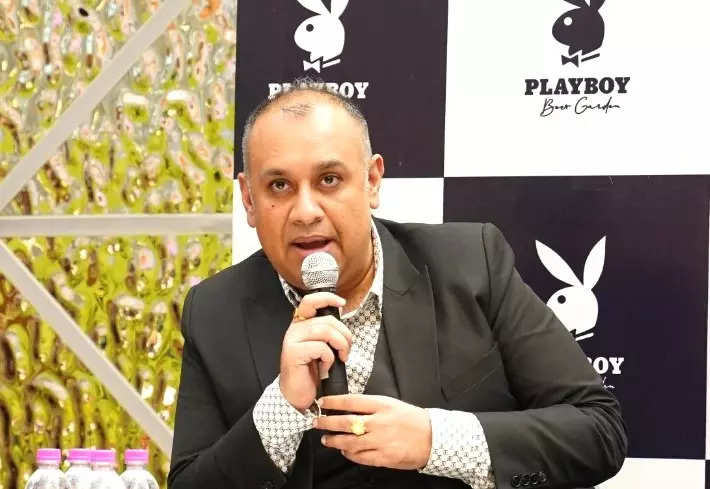 Having taken a decision by the company last year not to have any more franchise expansion in India for Playboy brand, Jay Jay Capital Investments, which became the master franchisee for the international Playboy brand of restaurants for India in 2021, is expecting to invest in the range of INR 45-60 crore for expansion of the brand over the next two to 2.5 years. However, he said that funds would not be a constraint if opportunities come their way.
Informing this in an interaction, Rohit Malhotra, CEO of the investment company has said that the idea is to establish 12 to 15 additional outlets to the existing six outlets over the next 2 to three years time. "We already have four outlets in the pipeline. Therefore, the target would be easily achievable," Malhotra said.
With the proposed expansion of the brand, the company aims to make Playboy a INR 200-crore turnover company in the next two years. Jay Jay Capital currently operates six outlets in the country of which five are beer gardens/pubs, and one is Playboy club lounge within a five-star hotel in Delhi. These outlets are located in Gurugram, Delhi, Dehradun, Guwahati, Zirakpur.
The company is all poised to debut its Playboy cafe format in Bengaluru in the next one month's time and a second outlet in the same city by end of this year, Malhotra said. They also have signed outlets in Kolkata, Noida and Mohali. "We are scouting for more locations across the country," he said. He said that they are keen to open outlets in places like Chennai, Goa and other places.
Talking about the Playboy cafe format, Malhotra said that Playboy cafes function like a normal cafe in the daytime, and transform into a bar and party place after sunset. The first Playboy cafe is set to open at Bengaluru Whitefield.
As far as the Playboy Club format is concerned, Malhotra said that they are designed to be part of five-star hotels and currently the brand operates one in The Grand Vasant Kunj hotel in Delhi. He said that they are keen to take it to places like Goa and Bengaluru in coming times and discussions are on.
Jay Jay Capital took over the master franchisee of the Playboy brand in 2021 as the earlier franchisee for India, PB Lifestyle, called off operations a few years ago. Jay Jay Capital had last week won a legal battle against an old franchisee in Chandigarh who was not complying with the brand parameters, Malhotra said. "We have decided last year not to extend any more franchisees. All the existing franchisee locations are operated by the company," he said.
Talking about the business, Malhotra said that all their existing locations are doing an average of INR 1 crore revenue per month which is a good return as per India market conditions. He said that besides tier-I cities, their experience with Tier II cities like Dehradun and Guwahati has been overwhelming and it gives confidence to take the brand to more tier-II locations like Ranchi, Bhubaneswar, etc.
He said that the consumer behaviour in India is changing rapidly and people are keen to go out and have a tryst with experiential dining and entertainment places at least once in a week now, which feeds brands like Playboy in the country.
When asked about the localisation that they are bringing in to make the product and services aligned with the Indian palate, Malhotra said that they have made adjustments both in terms of food and services for the Indian market conditions. On the food part, he said that they have a sizable offering of Indian and Asian cuisines in their menu to suit the Indian palate. On the service side, while Playboy brand is known for its unique services by 'Playboy Bunnies', taking into account the cultural sentiments of the country, Malhotra said that they are not having 'Bunny' services. "Besides those two aspects, everything else is as per international standards of the Playboy brand," he said.