His business partner Nahas did not respond, nor did Barilaro.
In his LinkedIn profile, Nahas states that he has been the managing director of Coronation Property since 2011.
However, the Herald can reveal that in October 2012, Nahas, 40, who is also known as Youssef Nahas, listed himself as "unemployed" on his personal insolvency agreement. This allows a debtor to come to an agreement with creditors to settle debts without becoming bankrupt.
In December 2012 three construction companies of which Nahas had been a director went into administration owing millions of dollars to sub-contractors.
In March 2014 he became a director of Coronation and two months later Nahas finalised his obligations to creditors, according to corporate records.
Since then, Nahas and his family have gone from strength to strength. In late 2015, his wife Danielle ­Elkorr, the best friend of former cricketer Michael Clarke's former wife, Kyly Clarke, snapped up a prime waterfront Darling Point site for $11.125 million. The couple is spending at least that much again building a luxurious new home, with more than $1 million going on imported designer tiles alone.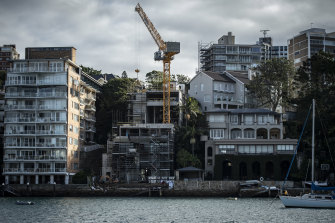 As their ambitious multi-storey construction continues, corporate records show the couple has borrowed money from a company owned by a John Wilson of Mosman.
Wilson has also lent the couple money for their proposed beachfront home at Wamberal on the Central Coast.
In October 2017, Elkorr paid $2.7 million for a vacant block on Ocean View Drive. At the same time, through an investment vehicle, her husband snapped up the adjacent beach shack for $2.46 million. Council records show that a number of objections have been received to Coronation Property's ambitious plans for a multimillion-dollar beach house on the two sites.
The Herald can confirm that Wilson is the alias for Zeljko Ranogajec, one of the biggest punters in the world with an annual turnover of more than $3 billion. Nicknamed "the Loch Ness Monster", the gambling tsar is rarely seen. He lives at One Hyde Park, London, one of the most expensive apartment blocks in the world. Ranogajec uses a series of corporate mazes and front people to make sure he stays in the shadows.
Loading
Separate caveats lodged on the Wamberal and Darling Point titles in October last year reveal that Wilson/Ranogajec's company Ashbury Capital has an unregistered second mortgage over the properties.
Ranogajec, through Ashbury Capital, is also a partner with Landerer and Nahas in a major development at a 3.14-hectare industrial site in Milton Street, Ashbury, which is set to be transformed into high-density apartments. Corporate records also reveal the gambling tycoon has other commercial property interests with Nahas in Chatswood and Erskineville.
Ashbury Capital came on board after the 2019 departure of Landerer and Nahas' previous partner in the project, Minfeng "Richard" Gu, whose AFX property group collapsed with debts of more the $200 million.
In 2016, Gu famously forfeited his million-dollar deposit when he failed to complete the $19.8 million purchase of actress Cate Blanchett's house in Hunters Hill.
Landerer, a former chairman of Rodney Adler's insurance company FAI and lawyer to the late business figures Sir Peter Abeles and Rene Rivkin, is set to face a public examination by liquidators into the spectacular $600 million collapse of the iProsperity property group, run by Michael Gu (no relation to Richard Gu) who fled Australia in 2020.
In May, this masthead reported Landerer is under scrutiny over millions of dollars in loans he and his businesses were claimed to have received from the iProsperity group at a time Landerer was advising it about some of its property ventures.
The dealings include a $9.3 million loan to Landerer and his wife's private company, Regina Equities.
At the time, Landerer denied involvement as a director of the iProsperity group of companies. "I was not a director or a shadow director. There is no evidence at all that I was," Landerer said. "I never signed anything as a director. I never attended any director meetings. It's all bullshit."
Meanwhile, last month Coronation Property outlaid $315 million for a large parcel of land in Erskineville from Chinese developer Greenland Golden Horse. The area has been earmarked for the future stages of the Park Sydney project.
The Morning Edition newsletter is our guide to the day's most important and interesting stories, analysis and insights. Sign up here.