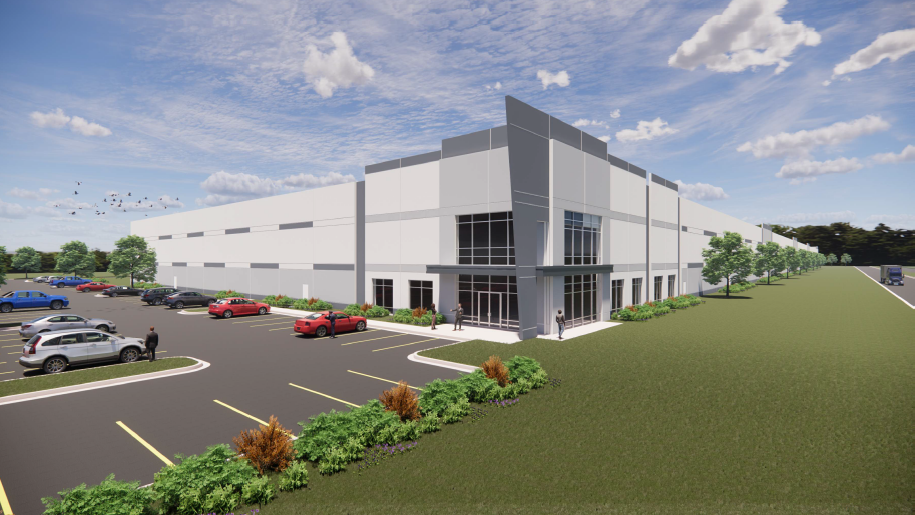 Lincoln Property Co. Southeast has acquired land in Kennesaw, Ga., and Calhoun, Ga., where it will build two industrial projects totaling more than 800,000 square feet over the next several years in the Northwest submarket of the Atlanta industrial market.
The Calhoun site will feature a 400,000-square-foot front-load building with 36-foot clear height, 65 dock-high doors, about 70 trailer spots and 255 auto parking spaces, according to Turner Fortin and Colin Beecham, industrial leasing associates with Lincoln. The property will be constructed with tenant convenience in mind, offering amenities such as covered parking and an outdoor grill and lounge area.
---
READ ALSO: A Look at Phoenix's Large-Scale Industrial Projects
---
The 65-acre property is located on Belwood Road just off I-75. It will be 50 miles to Chattanooga, Tenn., and 50 miles to I-285, providing proximal access to the closest major cities. Construction will begin in the third quarter and is expected to be completed by the summer of 2023.
Fortin told Commercial Property Executive plans for the Kennesaw location are still in the design phase. The property, also located off I-75, has a 175,000-square-foot flex office building on it that is currently leased. Lincoln acquired the building and 26 acres of land, where it plans to redevelop the site with one or two buildings totaling 400,000 square feet after demolishing the existing structure. This site will feature rear-loaded facilities with 36-foot clear heights. If one building is constructed, Fortin said there would be about 70 dock-high doors. If two buildings are constructed, they would likely each have 40 dock-high doors.
The Kennesaw site is closer to Atlanta and is less than a quarter mile from Kennesaw State University's main campus and 12 miles from I-285. The property has 26 acres and is situated off the intersection of Big Shanty Road and Town Point Drive.
Fortin said they love the location and said it has "great core demographics." He said Lincoln is keeping an open mind about the plans and would consider build-to-suit options or go the speculative route for the infill property that is about 25 miles from downtown Atlanta. Construction is not likely to start at the Kennesaw site for the next 24 to 48 months, he told CPE.
Booming market
Industrial development has seen a huge boom in growth throughout the state in recent years, particularly in the Northwest region, Fortin said in prepared remarks. He added that both projects are conveniently located less than a mile from I-75 and within a short driving distance of metro Atlanta, making them the perfect locations to reach other major transportation routes and an MSA of more than 6 million people.
Fortin said they expect to see a successful lease-up of both properties as users continue to seek premier industrial space in the Atlanta region, which has about 750 million square feet of industrial space.
Lincoln has developed or is developing about 4 million square feet of industrial space and leases and manages another 15 million square feet as a third-party operator in the Atlanta market.
Based in Dallas, Lincoln has developed more than 239 million square feet of industrial, office and retail projects, as well as 216,000 apartment units across the U.S. LPC Desert West, the Southwest division of Lincoln, has been particularly active in the Arizona region in recent months. Last week, LPC Desert West acquired a 77-acre site to construct I-10 International, a 1 million-square-foot industrial development in Tucson, Ariz., that will have four Class A warehouse and distribution center buildings. In May, LPC Desert West announced the development of Luke Field, a 2.3 million-square-foot megaproject in Glendale, Ariz.