The three remaining bedrooms are guest suites located in a private wing of the home. Each of these rooms contains a safe, mini bar, and entertainment system.
"The home presents bespoke finishings throughout, prevalent in the bedroom suite in the ceiling grafters, illuminated staircases, chandeliers, and integrated cupboards," the listing reads.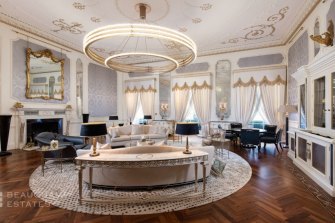 Entertainment rooms, including a two-metre plunge pool, fitness suite and spa lounge, are located on the basement level.
"Additionally, the home presents a fully equipped chef's kitchen, lift access throughout, a large double garage, two terraces, automated security systems, a dumb waiter, five staff bedrooms, and four secure vaults."