September 1, 2023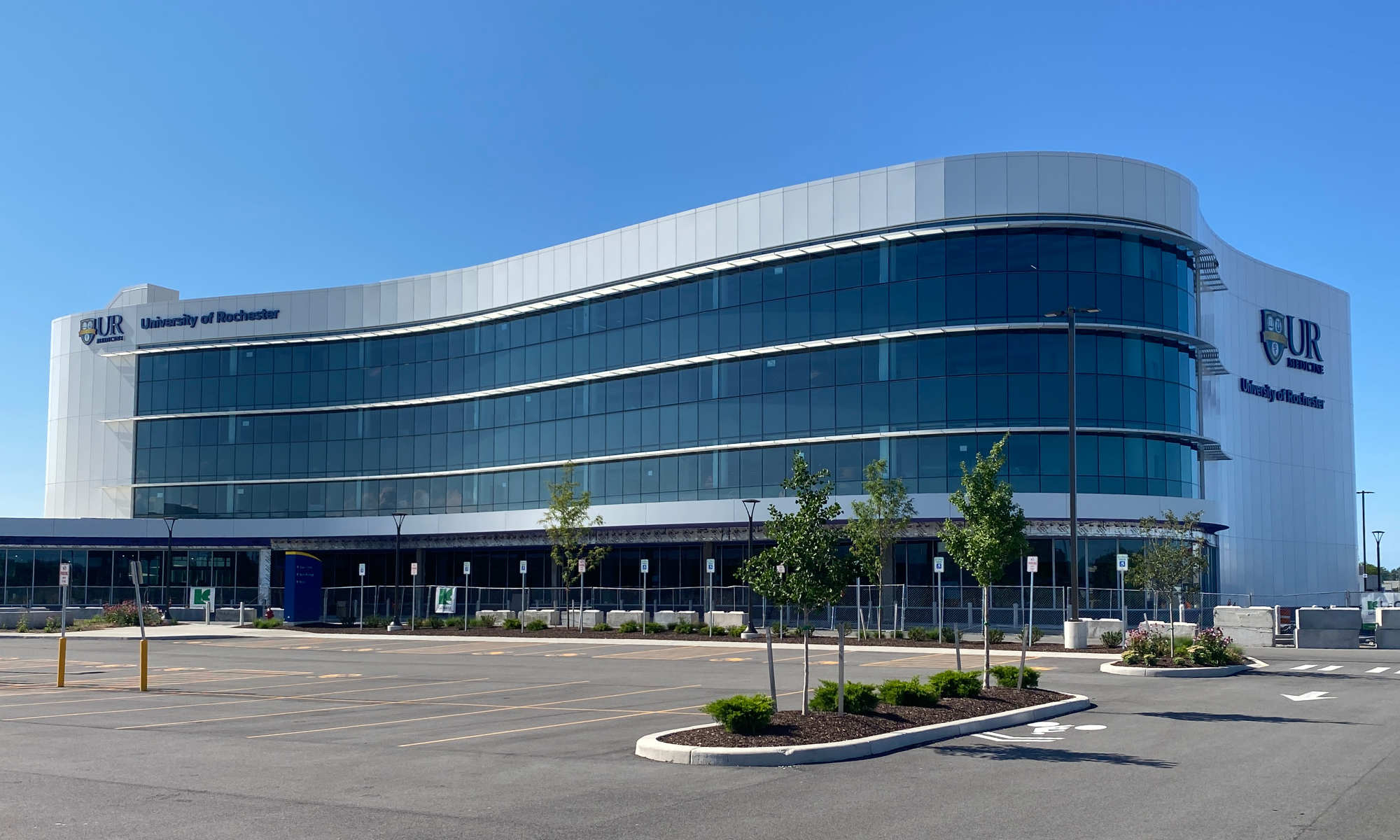 UR Medicine's new orthopaedic facility is already benefiting area patients. Can it also help revitalize a struggling suburban shopping center?
Therese Zona was nervous when she first entered the new UR Medicine Orthopaedics and Physical Performance Center in May for surgery to repair a torn rotator cuff—and not just because of the impending operation.
"It was all new to me," Zona says. "New building, new staff, and a relatively new doctor. My blood pressure was pretty high."
By the time the Rochester resident left later that day, she couldn't stop raving about the place or the people. "It was a super positive experience," Zona says. "The parking was easy, the staff was compassionate and helpful, and the building was immaculate. When I went in, I told them I was at a five-star facility and had a five-star doctor, so I expected a five-star surgery. And that's exactly what I got."
The 330,000-square-foot center, built on the site of a former Sears anchor store at The Marketplace Mall in suburban Henrietta, combines ambulatory surgery and other essential orthopaedic services in one accessible location—meeting the growing demand for musculoskeletal care. Ground was broken in 2021 and a major part of the center—the Ambulatory Surgery Center—opened in February 2023. The building features eight operating rooms, 32 postop recovery rooms, 144 examination rooms, and an imaging center for CT, MRI, ultrasound, and x-rays.
An estimated 7,000 surgeries will be performed at UR Medicine's new 330,000-square-foot Orthopaedics and Physical Performance Center in 2024.
Although the center is operational, it's not entirely finished.
A four-story tower and the Center for Human Athleticism & Musculoskeletal Performance and Prevention (CHAMPP) are on track to be completed later this year. CHAMPP will be a multidisciplinary center for proactive health care—combining sports medicine clinical teams, athletic performance training, physical therapy and rehabilitation, nutrition, and behavioral health.
At $227 million, the new center is the largest offsite building project in University of Rochester history and covers 19.1 acres—about 14 and a half football fields. "It's incredible, a tremendous resource for our patients and our surgeons," says Michael Maloney, the orthopaedic surgeon who operated on Zona.
But it's more than just a big building with state-of-the-art medical equipment and some of the top staff in the region. The center will impact the region economically while drawing patients and staff from other University facilities such as Strong Memorial Hospital and Clinton Crossings—a 120,000-square-foot outpatient facility owned by UR Medicine that sees more than 17,000 clinic visits per month. The new center at Marketplace Mall is nearly three times the size of Clinton Crossings.
"It's massive and incredibly well organized," says Bethany Zwolinski of Rochester, who underwent a revision ACL performed by Maloney in May. "I went in for surgery at 7:30 a.m. and left at 9:30 a.m.—and I didn't have one negative experience. This place is going to be great for the area."
'Musculoskeletal diseases affect all of us'
Paul T. Rubery has been chair of the University's Department of Orthopaedics since 2015. But even before then, he had a vision of something bigger and better for orthopaedics in Rochester.
"It's an idea that was germinating over the past decade," he says. "But it really started to coalesce about seven years ago. The department held a lot of meetings to plan our vision for musculoskeletal care for the next several decades. And to see this come together is amazing and a great vote of confidence by the University."
Rubery says a major increase in surgeries, both routine and major, was the driving force to build a massive facility that's able to serve multiple needs. Mark Taubman, CEO of the University's Medical Center and dean of the School of Medicine and Dentistry, noted when the project was announced in 2019 that the University had seen a 25 percent increase in orthopaedic surgery and a 60 percent increase in ambulatory visits over the previous seven years.
That trend has only surged: According to Christopher Blankenberg, chief administrative officer for the University's Department of Orthopaedics, an estimated 7,000 surgeries will be performed at the new center in 2024. The American Academy of Orthopaedic Surgeons predicts that by 2026 more than half of the joint replacement surgeries in the United States will be same-day procedures.
"Musculoskeletal diseases affect all of us if we're lucky to live long enough," Rubery says. "We all kind of wear out. But seniors are more active than ever. They used to say 60 is the new 40, but 80 is the new 60 now. I see patients every day who want to be doing things that I never imagined as a child—like an 80-year-old going downhill skiing. It's exciting to help our patients stay in motion."
There was some discussion of building a new facility from the ground up on a vacant space, but Rubery and others were intrigued by what Vanderbilt University had done with Nashville's 50-year-old mall, One Hundred Oaks. In 2009, Vanderbilt repurposed the mall into a 450,000-square-foot medical center just four miles from its campus. It remains a thriving part of the community 14 years later.
"It's been very successful in Nashville, and so the site at Marketplace began to emerge as a great place for us," Rubery says.
Right time, right place
A Sears store was an anchor at Marketplace Mall for more than three decades. When it closed three years ago, mall owner Wilmorite initially considered breaking the space up and leasing it to big-box stores. Instead, the commercial real estate company sold it to the University's Medical Center for $18.3 million in early 2020. Turning the space into a health care facility promised to bring people to the mall during weekdays, when foot traffic is usually lower. The mall was about 30 percent vacant at the time.
In June 2021, ground was broken on the orthopaedic center project at Marketplace. When completed, the center will include two indoor pools, an outdoor field in the courtyard for physical therapy rehabilitation and athletic training, and a motion analysis lab featuring five dedicated rooms with motion analysis technology, including virtual reality—the first of its kind in the region.
Sam Guerrieri '87, chair of the Medical Center's Orthopaedics Advisory Council, believes the new center was built at the right time, in the right place. "As you get older, you recognize how important it is to stay active," he says. "There's a need for this place. And its location is outstanding—the airport, interstate 390, and even the University's campuses are all close. It's going to breathe a lot of life into our community."
One of the biggest strengths of the center's location is its ample and convenient parking.
"We realize that patients visiting us have mobility problems," Rubery says. "And while it's a huge facility, the number of steps from where your loved one can drop you off to where you're trying to go has been intentionally minimized. Our location is conveniently accessible from all the major thoroughfares, and it's also on the RTS [Rochester Transit System] route, a big plus because many of our patients rely on public transportation."
Now trending: malls getting makeovers
With the swell in online shopping and changing consumer preferences, malls have been in decline for years. The COVID-19 pandemic further hampered brick-and-mortar merchants while bolstering e-commerce sales.
Although the death of the mall may be an exaggeration, the physical retail landscape has nonetheless evolved to attract not only medical facilities, but also other kinds of tenants. Google, for example, signed a lease with the Westside Pavilion shopping center in Los Angeles to create an office hub and campus, while Alturas International Academy opened a charter high school in the former Sears store at the Grand Teton Mall in Idaho Falls, Idaho.
"The factors that made retail malls popular with shoppers—convenient access from roadways, ample parking, and a variety of services in one location—are the same reasons those spaces are attractive to health care providers," says Bill Goodrich, CEO and managing partner for LeChase Construction Services LLC, which built Rochester's orthopaedic center. "It's a growing trend, and although we have been involved in some previous retail-to-medical conversions, UR's center is certainly the largest to date."
Goodrich says being able to start with a building shell and basic infrastructure saved months of construction time during the first phases of the project. "With the recent opening of the facility's surgical center and imaging suite, patients are already taking advantage of easy access to the facility, with staff and visitors enjoying the convenient food options available in the adjacent Marketplace Mall."
Orthopaedic center prompts retail revitalization?
When Marketplace Mall opened in October 1982, the Democrat and Chronicle reported that it was the largest mall located between New York City and Cleveland. It housed 140 specialty retailers and department store giants including Sibley's, McCurdy's, B. Forman Co., and Sears. JCPenney opened four months later.
But in recent years, Marketplace faced many of the same challenges as other retail centers across the nation. Steve Schultz, supervisor for the Town of Henrietta, says the total assessed value of all Marketplace Mall properties was just over $101 million in 2017. By 2019, the last year the Sears store was open, that figure had dropped to $70.8 million. The COVID-19 pandemic posed additional challenges.
"Even before I took office in January 2018, I was working with the town, county, and school district to deal with a declining Marketplace Mall," Schultz says. "In 2019, we updated the Comprehensive Land Use Plan to add mixed-use development, including a mixed-use revitalization area over the mall and surrounding older retail space. So, when mall officials approached us about the idea of turning the Sears wing into a URMC outpatient orthopaedic center, it fell right in line with those plans. It meant people would be bringing their friends and relatives to the center for surgery or other procedures, but then have shopping and dining options nearby while the procedure was completed."
Connecting the orthopaedic center to the mall creates more potential foot traffic for stores and restaurants. According to Schultz, an uptick was apparent soon after construction began. "Traffic at the food court increased from construction workers, and the Coffee Connection store saw a multifold increase in traffic once the project started," he says.
The orthopaedic center became the catalyst for a new mall plan, one that embraces being multi-use. In November 2022, mall officials announced the addition of five new tenants, including restaurants Juan & Maria's Empanada Shop, Pita Chik, and ZOKE. Big-box retailer Floor & Decor opened this month on the site of a former Macy's department store. And construction has begun on Marketplace Senior Apartments, a 55-plus residential community on the southwest corner of the property, expected to be completed in spring 2024, also taking advantage of the mixed-use revitalization zone.
"We're also starting to see interest in the area around the mall as a result of the URMC building," Schultz says. "After Pizzeria Uno closed in the plaza across the street, it sat empty for a while. Now, the owners of that plaza have seen interest from a major coffee franchise that wants to open a drive-thru so that doctors, employees, patients, and visitors can pick up coffee on the way into or out of the center. And another restaurant has opened in the same plaza."
Rubery is hopeful the center will become the destination of choice for musculoskeletal care beyond the Rochester region.
"We're anxious to attract patients from other parts of the northern United States, whether that be Ohio, Pennsylvania, or even northern New York," he says. "We believe that by combining outstanding clinicians with outstanding facilities, quality, and patient experience, we'll be able to give excellent care to patients from near and far. And we believe the new orthopaedic center will make that a reality."
It's a reality people like Zona never envisioned when Marketplace Mall opened its doors 40 years ago.
"I don't think I could ever imagine I'd be having surgery where I used to shop for shoes, or that this massive surgical center would be here," she says. "But I'm very pleased with how they've utilized the place and made it such a comfortable place to be. It's great."
---
Read more
Category: Featured