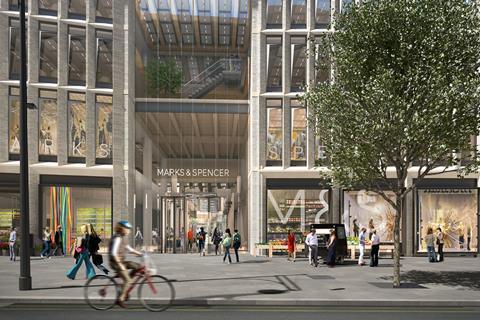 Marks & Spencer has received the green light from Westminster City Council to redevelop its flagship store in Marble Arch, London.
On Wednesday, the retailer said it was "pleased" the plans to revamp the store, which were announced in March, had been approved.
"M&S has a long history in the area and this means we will be able to create a modernised store offering the best of our products & services," it wrote on Twitter.
The company's decision had come under fire recently from heritage leaders, who called on Westminster council to stop the demolition of the Oxford Street landmark location from taking place.
But on 23 November, the council's planning committee voted to allow for the 90-year-old store to be redeveloped.
M&S aims to use the new space for a full line store as well as new office spaces and leisure facilities.
The plans to bulldoze the current building and replace it with a new nine-storey one will be led by architecture and urban design studio Pilbrow & Partners.
📢 @CityWestminster planning committee votes 5 to 1 to allow for @MandSnews Oxford Street store to be demolished under Pilbrow & Partners plans🥺the 'regeneration of oxford street' trumped the 39,500 tonnes of embodied carbon cost…https://t.co/A52rVOC6qt

— SAVEBritainsHeritage (@SAVEBrit) November 24, 2021
In its initial planning proposal, the upscale grocer said the existing buildings were "at the end of their service life" and were not aligned with M&S's vision for its future retail estate.
Back in March, the company said all colleagues working in the current store would be redeployed to surrounding ones during the redevelopment before returning to the new Marble Arch store when it reopens.
"The launch of our proposal to redevelop Marble Arch today is the latest example of how we are shifting gears in creating a store estate fit for the future," said M&S's retail, property & operations director Sacha Berendji.
"Under our Never the Same Again programme we are focused on emerging stronger from the pandemic, and today's proposal not only means we can redevelop and modernise our store so that it better serves the local community on the UK's destination high street, but by taking an assertive approach to the management of our asset base we can unlock additional value from the site."