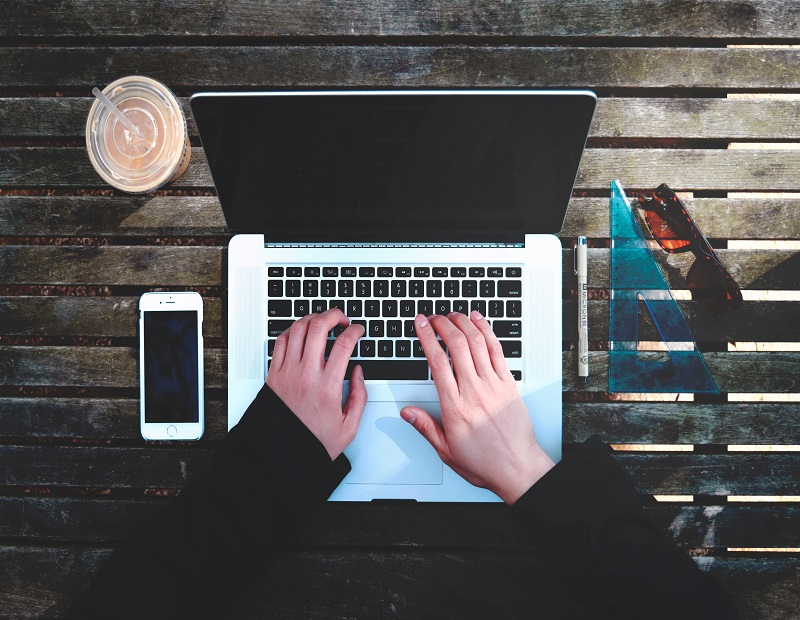 The U.S. added 136,000 tech talent jobs last year, a 2.5 percent increase over 2020, the first year of the COVID-19 pandemic, with most of those—110,300—occurring in the technology industry. The life science sector added 37,800 technology jobs in 2021 and the financial services, insurance and real estate sectors added 18,900 more tech jobs than the previous year.
But one of the major impacts of the pandemic on the tech talent landscape was the "huge increase" in remote positions, which were up 22 percent over 2020 versus a 4 percent increase before the pandemic, according to Colin Yasukochi, executive director of the Tech Insights Center at CBRE.
---
READ ALSO: How Interest Rate Hikes Will Impact CRE
---
Yasukochi's comments came on July 12, during a CBRE webinar to unveil its annual North American Scoring Tech Talent report. Joining Yasukochi on the call were: Todd Husak, Tech & Media Practice leader; Michelle Esquivel-Hall, executive vice president, Los Angeles; Grant Killingsworth, senior vice president, Miami; Ryan Link, senior vice president, Denver, and Liz Nucci, associate vice president, Toronto.
The report, now in its 10th year, ranks the top 50 North American markets by analyzing 13 measures of their ability to attract and develop tech talent, including tech graduation rates, tech-job concentration, tech labor pool size, labor and real estate costs.
While the top five tech talent markets remained the same as the previous year, with the San Francisco Bay Area leading the list followed by Seattle, Toronto, Washington, D.C., and the New York metro, remote working and other factors including tech labor-pool size and growth and the local tech industry outlook shuffled many of the spots below the top five. The remaining markets in the top 10 are: Austin, Texas; Boston; Vancouver; Dallas/Fort Worth and Denver. Toronto and Austin, Texas, each moved up one spot on the top 10 this year.
Markets that moved up most in rank were Dallas/Fort Worth, Philadelphia, South Florida and Milwaukee, Wis., which all moved up four or more spots. Vancouver; Chicago; Pittsburgh; Orlando, Fla.; Edmonton, Alberta, Canada, and Houston all moved up at three or more spots. Markets that moved down the most in rank were Madison, Wis., down six spots; and Raleigh-Durham, N.C., and Quebec City, Quebec, Canada, each down five spots. Smaller markets with 50,000 or fewer employees also saw growth in 2021, including Nashville, Tenn., Cleveland and California's Inland Empire.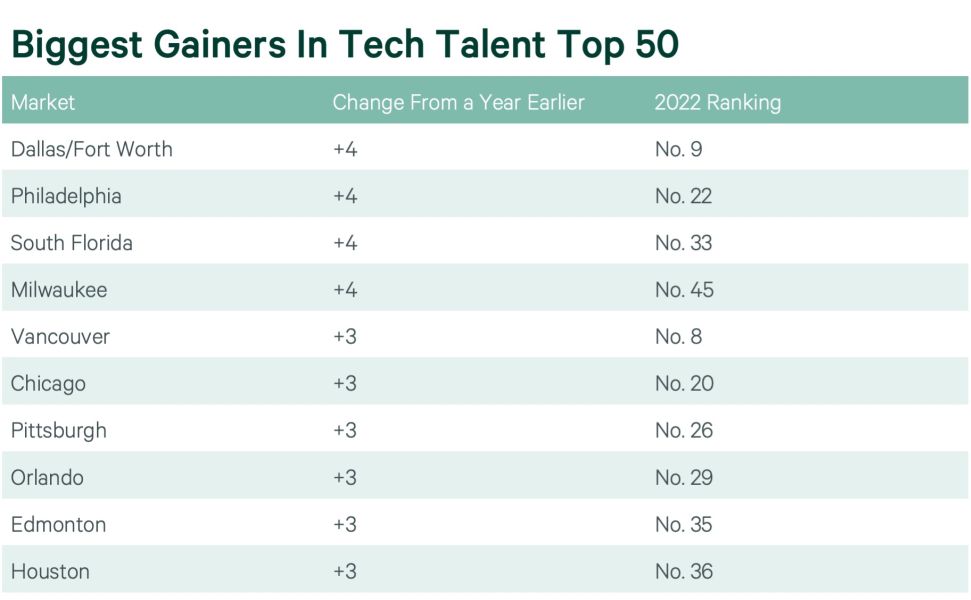 CBRE also ranks the Next 25 Emerging Tech Markets on a narrower set of criteria. In this year's report, Huntsville, Ala., leads the top 10 emerging markets followed by Dayton, Ohio; Colorado Springs, Colo.; Omaha, Neb.; Albany, N.Y.; Providence, R.I.; Rochester, N.Y.; Stamford, Conn.; Halifax, Nova Scotia; and London, Ontario.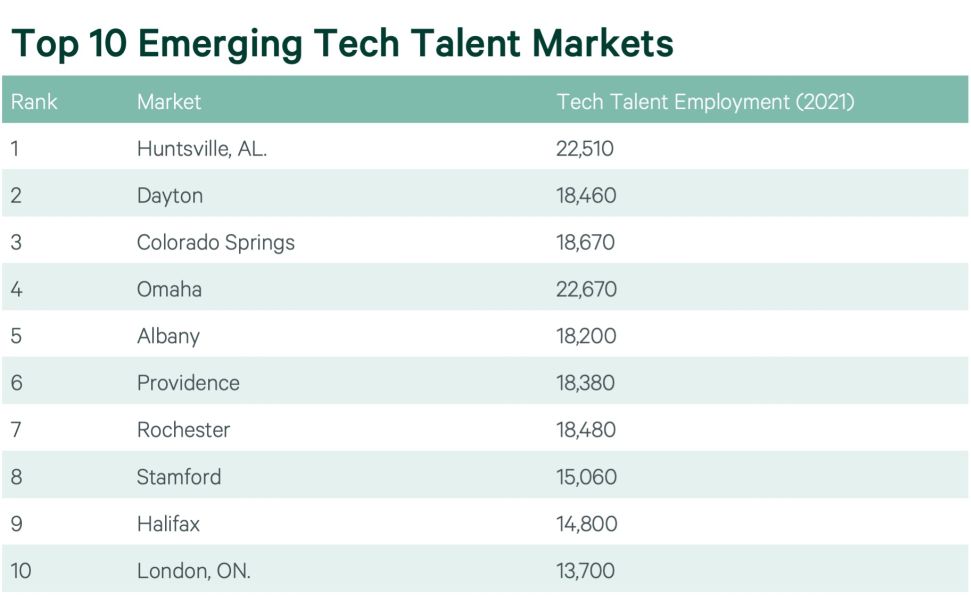 Growing tech markets
In Canada, the cities leading the nation's tech talent growth include Toronto, Vancouver and Calgary in Alberta. Nucci said during the webinar that Canada, and Toronto in particular, have "very strong talent and we're affordable," noting that the cost of office space there can be half of U.S. locations. She called Toronto a global tech hub that is very diverse and welcoming to immigrants that are skilled workers. Toronto's tech growth started before the pandemic hit, though it did see an increase of 38,700 tech jobs from 2019 to 2021. Between 2016 and 2021, Toronto had the most tech talent growth, with an increase of 88,900 jobs during that period. Seattle had an increase of 45,560 jobs during the same time and Vancouver saw an increase of 44,460 tech jobs.
The pandemic and other economic factors have increased migration throughout the U.S. and that has impacted markets like Miami and Denver. Killingsworth said there has been a "post-COVID boom" in Miami's office space, with tech, fintech and venture capital firms leading the way. With demand rising so dramatically, construction of Class A office space is underway in the market. He pointed to 830 Brickell, the first Class A office tower to be built in the city's urban core in more than a decade. The 55-story, 640,000-square-foot skyscraper has set preleasing records and rent records, noting rents for the building have surpassed $100 per square foot, a first for the market, according to Killingsworth. Microsoft, which signed for 50,000 square feet of space in September to house its Latin American regional team, is among the firms that preleased space.
Link also attributed growth in Denver, which moved up two spots to make it onto the top 10 tech markets, to in-migration of both tech companies and tech workers, many of them Millennials relocating from cities like San Francisco, New York and Chicago. Between 2016 and 2021, Denver's tech talent workforce increased by 23 percent. The city now has about 117,260 tech workers.
"This is huge news," Link said. "We've worked hard as a market in general to continue to push towards what we like to call a tier one labor market."
Link said Denver's tech job market used to be more of a "back-office operation." But he said as the tech ecosystem has grown, the market has seen more specialization and an increase in software engineers, which is the top occupation held by most of the new tech talent across the U.S. Of the new jobs added since last year, nearly 160,000 were software engineers, according to Yasukochi.
Diversity and demographics
This was the second year CBRE examined the diversity of the tech talent workforces. Tech talents continues to be predominately white, Asian and male relative to total employment and office-using employment. Hispanics, blacks and females were underrepresented in both tech talent occupations and the tech industry, and were also the groups that were concentrated in the lower-wage brackets. But the report notes there is some change occurring when it comes to tech-degree graduates. Hispanics, blacks and other underrepresented ethnicities comprised a larger share (24.3 percent) of 2020 tech graduates than they did in the overall tech talent workforce (22 percent). Women accounted for a larger share of the 2020 tech degrees (25.7 percent) than the tech talent workforce (24.4 percent).
For underrepresented race/ethnic groups, the most diverse large tech talent markets were Tampa, Fla.; Boston and Salt Lake City. The most diverse small markets were Pittsburgh; Jacksonville, Fla.; and Virginia Beach, Va.