NORTH CHARLESTON — On a warm weekday afternoon, the old Charleston Naval Base buzzes.
Excavators and other construction equipment tear into brick dwellings, built after World War II. Their demise makes way for new housing, both single- and multifamily units, that will match already refurbished former officers' houses nearby.
Crews soon will finish a pedestrian bridge spanning Noisette Creek, which will connect the 12-acre Riverfront Park — a popular event venue home to a number of music festivals — with an opportunity to add more park space on the other side.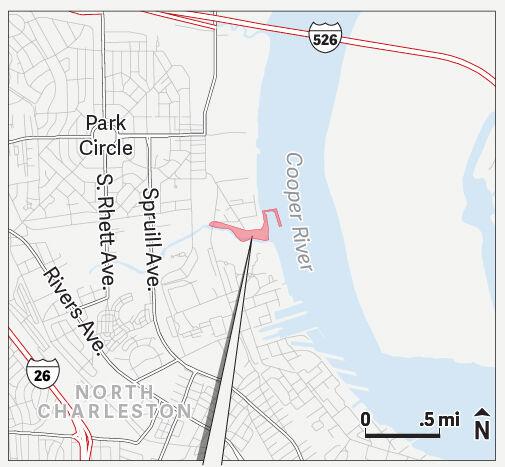 The ongoing projects point to progress for North Charleston, as the city continues decadeslong attempts to repurpose the 3-mile-long property that hugs the Cooper River into an urban waterfront corridor that includes houses, businesses and recreational space.
City officials remain focused on Battery Park, a 90-acre development dream that calls for condos, commercial properties and outdoor space — along with trying to convince the U.S. military to give up its final toehold on the land and move farther up river. That last part could be a long shot.
Additional housing could dramatically increase clientele at MOMO Kitchen + Market — a restaurant that opened last fall in the Quarters L building to provide park guests and nearby employees with a lunch option, said owner Justin Moore.
He also welcomed the idea of having more restaurants on the base.
"I think the more the merrier," the Park Circle resident said.
Finding a way to comprehensively revitalize the expansive base, however, has met many challenges since the government closed it in 1996.
The Noisette Plan, announced two decades ago, sought to create a vibrant, mixed-use community across several hundred acres on the former federal complex. That plan ultimately ended in foreclosure.
The city has contended the effort was not a complete failure, as it gave North Charleston an overall vision for the area as a work-live-play hub.
And there have been successes.
Last year, North Charleston completed a $4.5 million renovation of the old Admiral's House, which joins other buildings that have been refurbished for public use. Those include the Eternal Father of the Sea Chapel and the Gatekeeper's Inn at Quarters F.
Private investment also is shaping up. A real estate team with a track record for building expansive projects in large cities has plans to transform more than 1 million square feet — or about 23 acres — on the base into new offices, residences, shops and restaurants.
Now, the city wants to tackle what could be its most ambitious plan since the Noisette failure.
Battery Park
At the foot of the serpentine pedestrian bridge, which will be adorned with twin arches and a possible overlook area, sits a tract of largely undeveloped land.
Of the approximately 90 acres envisioned in the overall conceptual plan, the federal government owns more than 20, with a nonprofit and brewery taking up another 10. North Charleston owns the remaining 60 acres, which is either undeveloped or studded with old warehouses.
The city sees all the land — including what it doesn't own — as Battery Park, which would include new parks and outdoor event spaces along the creek at the base of the pedestrian bridge. That would then open up to mixed-use development farther beyond. Part of the plans call for new high-rises with residential units above street-level commercial space.
The project, which likely will require a public-private partnership, would stretch from Noisette Creek to Virginia Avenue. Costs for the high-density development could amount to billions of dollars of private investment.
That could dramatically increase tax revenue pouring into North Charleston, which currently has a $137 million budget and leads all of South Carolina in retail sales.
If Battery Park were to become reality and add even $200 million in commercial property, the city would receive an additional $1.1 million annually in property taxes at its current rate.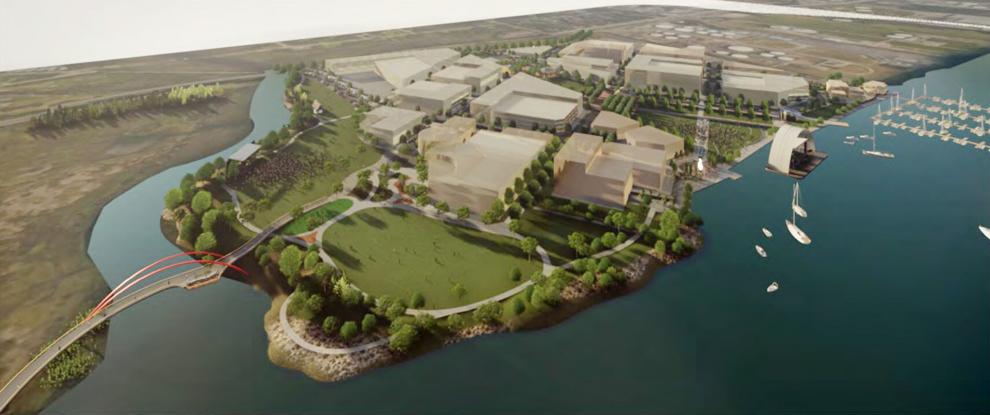 The Battery Park idea comes as the Charleston region continues to see significant growth. Charleston County gained 58,026 residents from 2010 to 2020, bringing the county's total population to 408,235.
The area near the old base, which includes the booming Park Circle community, has been among the most rapidly-growing sectors in the city since the base's closure. Park Circle, once a quiet, residential neighborhood, has become a residential hub and local destination point with swank apartments and new restaurants and bars. Young families have found the area attractive with its many parks and recreational amenities for children.
As new people move in, it is time for North Charleston to consider embracing other kinds of development not traditionally seen throughout the city, such as high-rises, said Ray Anderson, the mayor's special assistant.
Anderson, who has a background in architecture and also served on City Council and its planning commission, has been the lead on the Battery Park effort.
The tallest building in North Charleston is the old Naval Hospital, a 10-story structure on Rivers Avenue. A private developer plans to convert it into apartments.
Early plans for Battery Park don't specify how tall any buildings could be.
"I think you're probably going to see some high-rises finally in North Charleston," Anderson said. "Some people like that lifestyle and, you have to admit, we've certainly enticed a number of folks into our community that come from urban areas. And they may enjoy being in a what I call a 'robust urban environment' again."
No developer has been identified. But project renderings outline the city's vision for the area. The drawings depict roughly a dozen buildings near Noisette Creek that would be ideal for residential and commercial use, two outdoor event venues and three parks along the creek and the Cooper River. Bike paths weave throughout the development. A new boardwalk leads to the river.
The proposed project is in a desirable location, as the former base sits just 7 miles from downtown Charleston. Both residents and visitors would have waterfront views.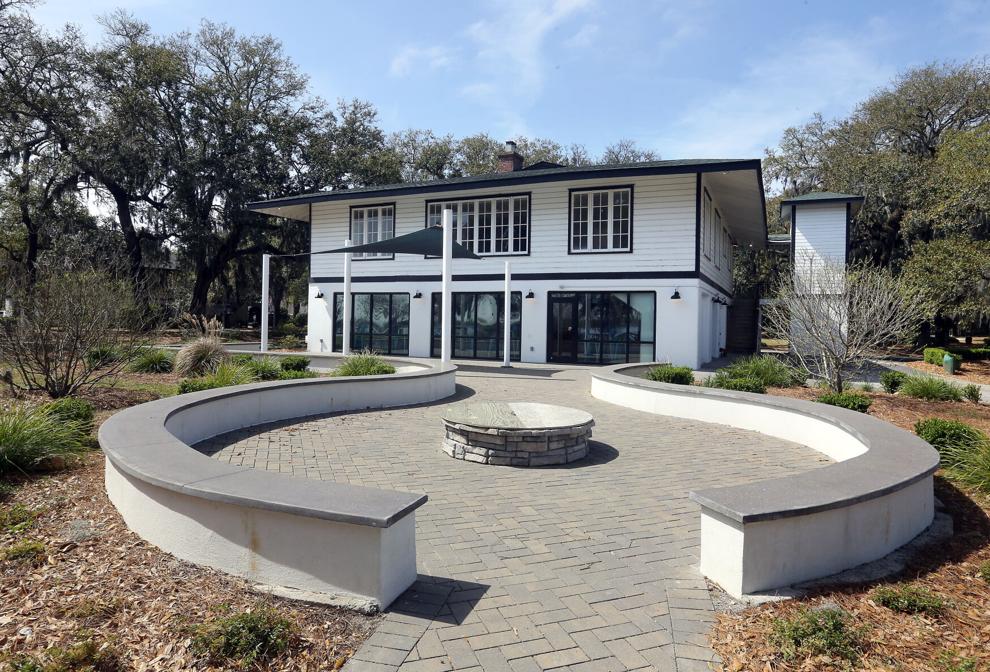 "Could we entice a water taxi up this way from downtown? I think that's a possibility," Anderson said.
Mayor Keith Summey said his vision is to create high-rises that would be consistent with development in other large U.S. cities. But he emphasized the project is still early in the planning process, and that the plan could be modified once the city identifies a developer.
"The plans are great, but it's just like every other plan. You can plan it all you want, but whoever comes in and owns the land and is willing to do something that fits within our package — the plan is subject to change," Summey said.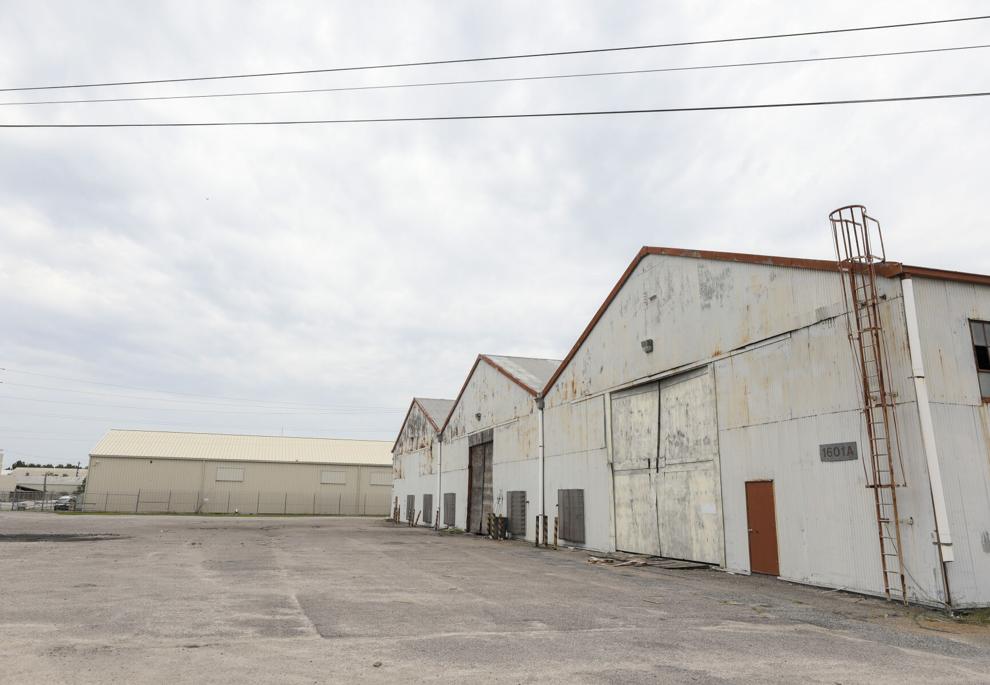 Challenges ahead
One of the most obvious hurdles is the 21 acres desired as part of the project that is owned by the Air Force. It is being used for engineering and research purposes to support the Navy and Marine Corps.
City officials said they have talked to the Air Force about relocating to the Naval Weapons Station in Goose Creek. The federal government confirmed that it has been in conversation with the city regarding the property, but there are no updates with regard to relocating.
"Joint Base Charleston remains committed to its relationship with the city of North Charleston," said spokesman Victor Reyes.
Another major challenge is parking — which already is a pressing need on the former base, now the site of homes, businesses, nonprofits, warehouses and a large park, along with a rail yard built to serve the new port terminal at its southern end.
Riverfront Park already has a parking lot that is too small for its size, Councilman Bob King said. Though the city has created a handful of parking lots on that side of town in recent years, the area is in desperate need of more — especially if residential development is added, King said.
King also acknowledged the need for more reasonably priced housing in North Charleston. The Battery Park plan, however, doesn't seem like it would include affordable homes, given its waterfront location, King said. The councilman said he would like to see the city consider other parts of North Charleston where it could realistically build affordable homes.
The proposed development will be dense, which could better enable developers to set aside a certain number of apartment units for those with low to moderate incomes, Anderson said.
North Charleston is in a good position to encourage affordability, said Bill Stanfield, CEO of Metanoia, a local affordable housing nonprofit. Given the city owns most of the land within the proposed development, it should strongly consider encouraging mixed-income housing at the Battery Park site, he said. 
"There is an awfully strong need for mixed-income neighborhoods that make space for everybody," Stanfield said. "I hope they would consider some options that would create such a community."
Valarie Harper Young is a native of Liberty Hill, a predominantly African American community that was established by former enslaved people shortly after the Civil War. The community, which sits adjacent to Park Circle, has raised concerns about the threat of gentrification in the Black neighborhood as home prices in Park Circle have risen to the $400,000 mark in recent years.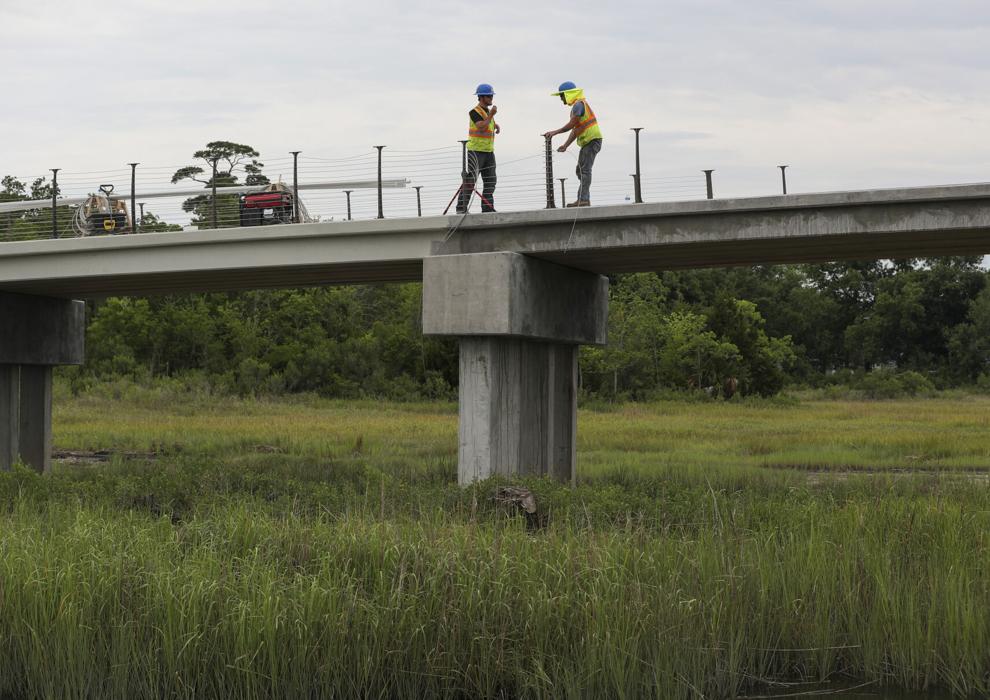 Young, who wasn't aware of the Battery Park proposal, acknowledged that improvements on the old Navy base and within Park Circle have helped spur Liberty Hill residents into action. The neighborhood's improvement council has spent recent years educating homeowners on the importance of paying property taxes so they don't lose their homes.
"We know gentrification is going to happen around us," Young said. "But because everybody is an individual property owner on Liberty Hill, it won't impact us significantly or quickly. We're not going to let anybody lose any more properties around here. We have to take care of our own."
Another local resident favors the project.
"That's been an area that's served an industrial purpose for a good long while, but it'd be nice to see it have more of a residential, business and commercial use," said Jerry Lahm, former president of the Olde North Charleston neighborhood.
After decades of fits and starts, it remains to be seen whether the base will ever be fully revitalized. The ambitious Battery Park plan will be a key piece to helping North Charleston reach its overall vision for the old federal complex. But many will be watching to see whether the project, if ever built, will be a community that can be enjoyed by everyone.
David Slade contributed to this report.