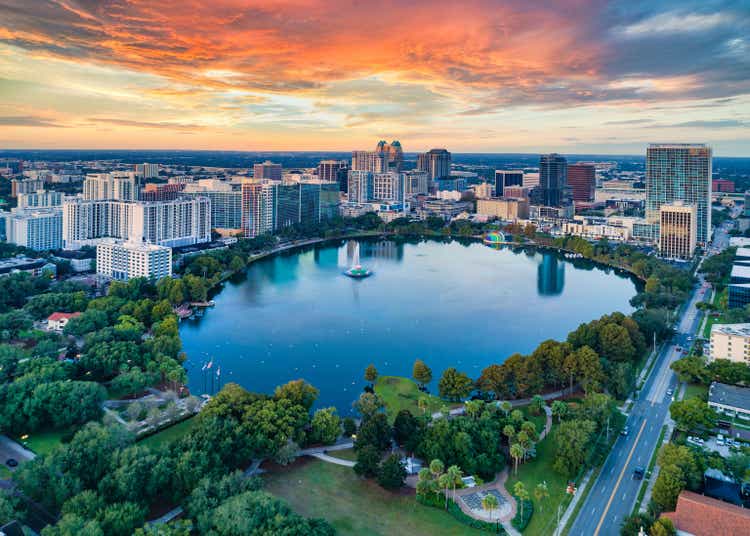 This is an abridged version of the full report published on Hoya Capital Income Builder Marketplace on July 8th.
Real Estate Weekly Outlook
U.S. equity markets posted solid gains this past week as decent employment data eased concerns over a "hard landing" – for the U.S. economy at least – sparking a bid for risk assets and sending benchmark interest rates higher. The solid nonfarm payrolls report – while not as strong as the headline number initially suggested – was likely enough to keep the Federal Reserve on course to hike interest rates by another 75 basis points at its next meeting, but with the GDPNow model now predicting a second-straight quarter of economic contraction – and all signs pointing to an even sharper slowdown in Europe and Asia – the hiking cycle may be shorter than once anticipated if inflation begins to show clear signs of cooling.
Recording just its third weekly gain in the past fourteen weeks, the S&P 500 advanced 1.9% on the week – trimming its drawdown back below the "bear market" threshold – while the tech-heavy Nasdaq 100 rallied nearly 5% but remains more than 25% below its recent highs. Commodities were the center of the market action this week as demand concerns sent prices tumbling early in the week – with Crude Oil Prices briefly dipping below $100 per barrel for the first time since May – before paring their declines. Real estate equities exhibited a clear "risk-on" pattern as economically-sensitive sectors rebounded while defensive sectors lagged. The Equity REIT Index finished lower by 0.7% for the week while the Mortgage REIT Index advanced by 0.6%.
Global benchmark interest rates rebounded rather sharply on the week following solid employment data in the U.S. as the 10-Year Treasury Yield closed the week at 3.10%, up 21 basis points on the week but still well below its recent high of 3.50% in early June. The U.S. Dollar rallied to the strongest level in twenty years as economic headwinds in the Eurozone mounted with sudden political uncertainty emerging in the U.K. adding to troubles related to surging energy prices from nations once highly-reliant on Russian oil and gas. Stateside, homebuilders and the broader Hoya Capital Housing Index were once again a notable bright spot on easing concerns over the possibility of a Fed-induced "hard landing" in the employment and housing market and expectations of U.S. economic outperformance.
Real Estate Economic Data
Below, we recap the most important macroeconomic data points over this past week affecting the residential and commercial real estate marketplace.
The Bureau of Labor Statistics reported this week that the U.S. economy added 372k jobs in June – slightly above expectations of roughly 270k when including the downward revisions of 74k across the prior two months. Future gains will be increasingly harder to come by with nonfarm employment now within 0.3% of its pre-pandemic level. In June, notable job growth occurred in professional and business services, leisure and hospitality, and health care. Notably, despite the recent strength in leisure and hospitality hiring, employment in the industry is still down by 1.3 million, or 7.8%, since February 2020. Also of note, the category with the strongest relative increase in hiring in June was in mining and logging, consistent with rig count data showing a much-needed increase in activity, but U.S. oil production still remains nearly 10% below pre-pandemic levels despite soaring prices.
A bit of an "outlier" amid a recent stretch of weaker-than-expected economic data, the internals of the report were less rosy than the headline number derived from the establishment survey. The household survey – which is used to calculate the unemployment and labor force participation figures – showed employment falling in two of the past three months, reporting that there were 315k fewer Americans employed in June while the employment-to-population ratio fell back below 60% for the first time since February. Earlier in the week, Initial Jobless Claims climbed to a six-month high while Continuing Claims climbed to the highest level since April. Average hourly wages, meanwhile, rose 0.3% from May to June and 5.1% over the past year, which was the lowest year-over-year wage growth since December.
Equity REIT Week In Review
Best & Worst Performance This Week Across the REIT Sector
Mall: Troubled mall owner Seritage Growth Properties (SRG) surged more than 100% this week after the company's board approved a plan to sell all of the company's assets and then dissolve. The plan, if approved by shareholders, would distribute the net proceeds of the sale of roughly 175 properties totaling about 20M SF to shareholders. SRG – which was formed in the mid-2010s to own former Sears and Kmart properties – has posted dismal returns since its public listing in 2015, encumbered by the strong headwinds faced by lower-tier malls. SRG technically revoked its REIT status last year as it began a strategic review. Mall transactions are few and far between in the U.S. as there have been few active buyers in recent years, but several potential bidders on SRG's properties include Simon Property (SPG), Brookfield (BAM), and Macerich (MAC). France-based Unibail-Rodamco-Westfield (OTCPK:UNBLF) – also announced earlier this year that it wants to sell most of its two-dozen U.S. properties by the end of 2023.
Single-Family Rental: While one REIT plans to dissolve, another REIT has emerged. NexPoint Diversified Real Estate (NXDT) completed its transition from a closed-end fund into a publicly-traded REIT, a conversion process that began in late 2020. NexPoint also serves as the external adviser to two other publicly-traded REITs: NexPoint Residential Trust, Inc. (NXRT) and NexPoint Real Estate Finance (NREF) – both were largely formed within NXDT before launching as standalone public REITs. NXDT owns a portfolio of private and non-traded real estate companies with an enterprise value of roughly $1B, the majority of which is concentrated in the residential sector. Its most significant position is in VineBrook Homes, a non-traded REIT that owns over 21,000 SFR homes in 23 markets. Additionally, the Company has significant positions in two private self-storage companies, along with several office buildings and life sciences facilities.
Storage: Speaking of storage REITs, Life Storage (LSI) was little changed this week despite hiking its dividend for the second time this year, boosting its quarterly payout to $1.08 per share. The rate represents an 8% increase from the previous quarter and a 46% increase from the second quarter 2021 dividend. For the year, we've now seen 70 equity REIT dividend hikes and another dozen hikes from mortgage REITs while five REITs have reduced their dividends. For the storage sector, recent Producer Price Index data – which historically exhibits a tight correlation with storage rent growth – indicates continued strength in storage demand deep into the second quarter with the PPI Index rising another 1.8% in May, keeping the year-over-year growth rate to over 17%. Storage REITs have significantly exceeded expectations and posed impressive earnings results in each of the past four quarters.
Healthcare: Healthcare Realty (HR) slumped more than 7% after proxy firm ISS recommended "cautionary support" for its planned acquisition of medical office REIT Healthcare Trust of America (HTA). The pair agreed in February to a $18B deal that brings together two of the largest owners of medical office buildings. The transaction, which was structured as a reverse merger in which HTA will be the corporate successor, is expected to be completed in Q3, but has been met with a lukewarm response from investors, but ISS opined that "if management can replicate its past achievements, the deal will create more value for them than the status quo standalone plan." HR expects to fund the $1.1 billion special cash dividend – $4.82 per share – to HTA shareholders through a combination of asset sales and joint venture transactions at a blended cap rate of 4.8%. HR also expects to form a new joint venture with CBRE Investment Management ("CBRE IM"), contributing four HTA properties while retaining a 20% interest in the joint venture.
Office: Franklin Street Properties (FSP) slumped 10% on the week after changing its distribution policy to a variable quarterly dividend – replacing its previous regular quarterly dividend policy – which the company notes "better aligns with the transactional nature of our 2022 objectives" which include the sale of properties and use of proceeds for debt reduction. FSP second-quarter dividend of $0.01/share was down from its prior dividend of $0.09. Elsewhere, Vornado Realty (VNO) completed its previously announced sale of the Center Building, an office building located in Long Island City, New York, for $172.8M. VNO also announced that it has recently completed four refinancings totaling $3.2 billion. Despite the slow recovery in utilization rates, office leasing demand – and earnings results from these office REITs – have been surprisingly resilient in recent quarters particularly for REITs focused on business-friendly Sunbelt regions and specialty lab space.
Hotels: The "risk-on" sentiment and a handful of encouraging business updates lifted the recently-slumping hotel REIT sector this week. Sotherly Hotels (SOHO) surged more than 10% after it provided preliminary results for the second quarter, noting that its Revenue Per Available Room ("RevPAR") was within 3% of 2019 levels. Troubled Ashford (AHT) jumped nearly 18% on the week after announcing that it expects its Q2 RevPAR to be 6% below that of the comparable pre-pandemic quarter in 2019. Braemar (BHR) advanced 4% after announcing that it expects its RevPAR to be 28% above its comparable 2019 level. As discussed this week in Hotel REITs: Summer of Revenge Travel, surging nightly room rates on luxury hotels have offset lagging occupancy rates. STR reported this week that U.S. hotels set another weekly record for RevPAR, driven by a 17% surge in average daily rates even as occupancy rates have trended sideways since late Spring.
Data Center: DigitalBridge (DBRG) was among the leaders this week after announcing a $200M share repurchase program, effective immediately, which includes the authorization to repurchase both common and preferred shares. The company also announced its plan to effectuate a 4:1 reverse stock split in the third quarter of 2022. The reverse stock split is "intended to reinforce the completion of the Company's successful business transformation, more closely align DigitalBridge's outstanding share count with companies of similar size and scope, and generate additional administrative cost savings." As noted in our Weekly Outlook report last week, data center REITs have become "battleground" stocks in recent weeks after short-selling firm Chanos & Company launched a $200m fund that will bet against US-listed REITs with a particular focus on data centers. In a Financial Times interview, Jim Chanos described the position as the firm's "big short" based on the thesis that "value is accruing to cloud companies, not the bricks and mortar legacy data centers."
Mortgage REIT Week in Review
Mortgage REITs traded modestly higher this past week despite renewed pressure on mortgage-backed bonds as the iShares MBS ETF (MBB) retreated more than 1% after posting its strongest three-week gain on record. Franklin BSP Realty (FBRT) and Western Asset (WMC) led the gains on an otherwise quiet week of mREIT newsflow after both companies successfully launched MBS products. FBRT announced last Friday that it closed on an $800M commercial real estate collateralized loan obligation while WMC announced this week that it priced a $350M mortgaged-backed note offering. Elsewhere, Ellington Financial (EFC) was among the leaders this week with gains of nearly 2% after holding its monthly dividends steady with a dividend yield of 11.8% while Ellington Residential (EARN) also held its dividend steady with a dividend yield of 12.4%. On the downside, Invesco Mortgage (IVR) lagged this week following two weeks of double-digit gains.
REIT Capital Raising & REIT Preferreds
The Hoya Capital REIT Preferred Index finished higher by 1.73% this week to trim the year-to-date declines to roughly 10% on a total return basis. The preferred series of Pennsylvania REIT (PEI) rallied by roughly 10%, coinciding with a statement from activist firm Cygnus Capital, which has been seeking to gain board seats through their preferred share position. PREIT has the worst-performing REIT this year with declines of more than 70%, continuing a slide that began in mid-2021 as the clock is ticking for the troubled mall landlord to raise capital through asset sales to pay down its substantial debt load. The preferred series of Sotherly Hotels also continued their rally this week after the company indicated in the prior week that it is planning to reinstate its preferred dividend.
2022 Performance Check-Up
One week into the second half of 2022, Equity REITs are now lower by 20.6% on a price return basis for the year while Mortgage REITs have slipped 21.5%. This compares with the 18.2% decline in the S&P 500 and the 18.2% decline in the S&P Mid-Cap 400 as well. With the exception of the student housing and casino REIT sectors, every property sector is in negative territory for the year while nine property sectors are lower by over 20%. At 3.10%, the 10-Year Treasury Yield has climbed 159 basis points since the start of the year, briefly breaking through the prior post-GFC-high rate of 3.25% reached in 2018 and touching a recent high of 3.50%.
Economic Calendar In The Week Ahead
Inflation data highlight another busy week of economic data in the week ahead. On Wednesday, the BLS will report the Consumer Price Index which investors – and the Fed – are hoping to show that the fastest pace of year-over-year increases is finally behind us. The Core CPI is expected to moderate for the third straight month to a 5.7% annual rate, but persistent energy and food price inflation is expected to keep the headline rate to the highest since December 1981. The following day we'll see the Producer Price Index for June which is expected to exhibit similar trends of peaking price pressures. On Friday, we'll also see Retail Sales for June and get our first look at Michigan Consumer Sentiment for July. Last month, sentiment fell to the lowest level in more than 10 years as persistent inflation and worries over economic growth have weighed on confidence.
For an in-depth analysis of all real estate sectors, be sure to check out all of our quarterly reports: Apartments, Homebuilders, Manufactured Housing, Student Housing, Single-Family Rentals, Cell Towers, Casinos, Industrial, Data Center, Malls, Healthcare, Net Lease, Shopping Centers, Hotels, Billboards, Office, Farmland, Storage, Timber, Mortgage, and Cannabis.
Disclosure: Hoya Capital Real Estate advises two Exchange-Traded Funds listed on the NYSE. In addition to any long positions listed below, Hoya Capital is long all components in the Hoya Capital Housing 100 Index and in the Hoya Capital High Dividend Yield Index. Index definitions and a complete list of holdings are available on our website.