"Regional NSW is showing what we're largely seeing across Australia and that is a slowdown in momentum. But prices are going to hold up better in regional NSW than Sydney," Powell said.
While higher mortgage rates and cost of living would affect regional home buyers, demand will be sustained due to more affordable price points, she said.
"Sydney and Melbourne are higher priced markets and see bigger swings as well. That's another reason why Sydney is going to see the deeper downturn compared to other areas," Powell said.
KPMG demographer and urban economist Terry Rawnsley said the regional housing boom has started to slow because the population growth underpinning it has also stalled.
"The big surge in population growth in these regional areas that we saw in the last two years has slowed. The number of people fleeing Sydney and Melbourne has slowed as we return to a degree of normality," Rawnsley said.
Loading
He said house price declines would take longer to flush through as they lagged capital cities and had different dynamics, such as fewer investors and a smaller jobs market.
Regional housing markets may have also reached capacity as there were very few homes left to choose from.
He said there would be a period where regional housing markets find their balance.
"Those interest rate rises we've seen in the last three or four months will work their way through the system. People will be reassessing their budgets and what they're willing to pay for property," Rawnsley said.
"People in the local markets are not quite sure what is fair value now."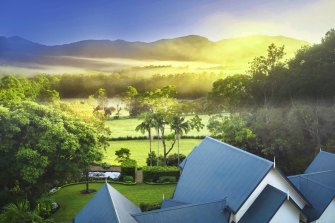 He said while markets within an hour or two drive from the city may have all the fundamentals for long-term growth and hold their values, towns further away may experience losses in coming quarters.
"There might be a few pockets where people who overpaid during the boom, and it will take some time until the market finds its new equilibrium."
Selling agent Andrew Miller of Nutrien Harcourts Echuca said property markets in towns like Moama in the Murray River Council continue to soar because of the exodus of buyers from the cities during COVID-19.
He said many Victorians north of the Murray moved to NSW because of more relaxed pandemic-era restrictions, cheaper stamp duty than Victoria and more land releases than Echuca, which is located in the Campaspe Shire Council, which recorded less than half the house price growth that the Murray River Council did.
Loading
"The Moama people had better COVID lives than we did," Miller said, who works across both states.
"The demand will make sure the prices will remain at least stable and our economy is still incredibly strong, which fuels confidence.
"The tradies have never been busier, the machinery sellers have never been busier, the people at the food factory have never been busier, it's a good time for all."
The same type of city COVID escapees were also piling into the Snowy Mountains housing market as well as investors and workers on the Snowy Hydro 2.0 project, according to Shannon Fergusson, principal of McGrath Snowy Mountains.
"[Prices] will hold up better. I don't think we'll see the percentage slide that other areas are seeing. Cooma with the Snowy Hydro project that is about a 10-year project, we're 2 years in and 500 days behind so that will prolong the spending in the area," Fergusson said.