---
Buyers scoop up residential units amid expectations of further weakening of rupee and soaring construction costs
The weakening rupee and growing anxiety on the rising housing prices amid the soaring construction costs drew many prospective buyers into the residential apartments, helping Overseas Realty (Ceylon) PLC to record some robust top and bottom-line performance in the quarter ended on June 30, 2022.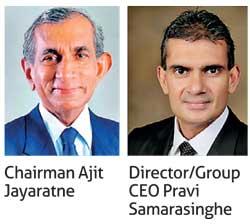 The company generated revenues of Rs.3.49 billion in the April-June period, which included the rental incomes from its World Trade Centre (WTC) towers, more than twice the Rs.1.55 billion reported in the same period in 2021. 
While the company managed to increase rentals to its tenants occupying the WTC during the period, the bulk of the revenue boost came from the new apartment sales coming from its Havelock City Residential component. 
For instance, the company sold apartments worth of Rs.2.86 billion in the three months, more than thrice the Rs.903.8 million generated in the same period in 2021, reflecting that the buyers are fast scooping up residential units before the prices catch up with the soaring construction costs and weakening rupee. 
"The strong growth in revenue and profitability was fronted by the robust performance of the Havelock City Residential sales during the first four months of 2022," the company said in an earnings release. 
"Expectation of the weakening Sri Lankan rupee and an increase in inflation in the past few months, resulted in a strong demand for residential property," the company added. 
The rental income from its WTC towers came in at Rs.547.7 million, up from Rs.493.0 million in the same period last year. 
In this backdrop, the company reported earnings of Rs.1.26 billion for the quarter, compared to Rs.326.9 million in the same period last year.  In the six months, the profits were at Rs.3.82 billion, compared to Rs.804.2 million a year ago. 
Despite the robust performance, the company raised serious concerns on the potential impact coming from the acute foreign exchange shortage and the resultant inability to repay the foreign currency loans. 
The company has already booked a significant exchange loss in its foreign exchange loans from the over 80 percent decline in the value of the rupee against the dollar since its float in March. 
"Since then, the velocity of residential sales has reduced drastically," the company's Chief Executive Officer Pravir Samarasinghe said. 
Meanwhile, the company said the construction of its office tower titled Mireka Tower and the shopping mall at Havelock City reached 95.5 percent completion level by the end of June, despite the challenges coming from the import restrictions and economic crisis.  Pre-leasing for both office and shopping space has commenced.