There are many advantages to buying a new build property – from the opportunities they provide first-time buyers to the energy efficiency benefits. Darren Polson explains more and reveals some of the incentives on offer for new build buyers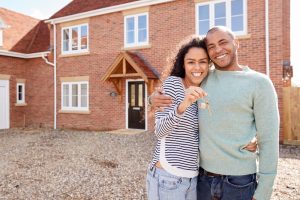 After what feels like a never-ending stream of bad news for home buyers over the last few months at long last it feels like things have stabilised, at least a bit, anyway.
The rate of inflation is falling, and in recent weeks we've seen house prices drop (a little) and a large number of major lenders reducing mortgage rates.
That said, whilst the situation seems more positive, we cannot avoid the fact that the cost living is still having a big impact for many families and individuals and so buying a new home might not be a high priority, yet.
However, with the housing market having slowed, one particular area which could well be of growing interest to potential buyers is that of new build homes.
Now, buying a property of any kind, whether for the first time or moving, can be a stressful and complex process.
We come across jargon and have to deal with a range of issues such as applying for a mortgage, getting insurance and dealing with all the legal aspects.
And that's before you even get to the stage of negotiating and agreeing a price.
And this is where the prospect of buying a new build property comes into its own.
What are the 'pros' of buying a new build home
Deciding to buy a new build home brings considerable benefits which can, in many ways at least, ease some of the issues you might face when purchasing an established property.
For a start, for a large number of first-time buyers, buying a new build is the only way they can afford to get on the property ladder.
Over the years schemes such as Help to Buy and shared ownership have provided the necessary boost to help them achieve their dreams.
Furthermore, among the most significant benefits of a new build is that the price is fixed from the outset. There's no doubt that the thought of not having to haggle with a seller is particularly desirable.
In addition, knowing the price in advance means you can accurately budget and you'll know the amount of deposit you will require.
An energy-efficient move
Increasingly we're all looking to do our bit for the environment and new build homes have to comply with the latest building regulations.
Not only is this better for the environment, but in the current climate of high energy costs, higher energy efficiency generally means lower energy costs.
In fact, data from Energy Performance Certificates (EPC) shows over 80% of new homes have the highest A or B ratings. This compares with just 2.2% of existing properties. And with better EPC ratings comes the option of green mortgages, which in some cases can offer cheaper rates.
On a more practical level, buying a new build means you can "unpack and go" – you basically have a blank canvass with everything from fresh tiles and paintwork to brand new kitchens and bathrooms.
Anyone purchasing a new build home can feel some comfort in the knowledge that you are normally protected under warranty. All new properties come with a warranty, most commonly with the National House Building Council or NHBC – this is usually applicable for 10 years.
Incentives for new build buyers
If all of this wasn't enough to whet the appetite, many of the main new build developers are offering very attractive incentives in order to sway buyers.
With a sluggish market these developers understand that they need to compete for business and they are tailoring offers within different developments across the country.
Barratt Homes for example is offering a 5% deposit contribution and 1% towards flooring costs within certain developments.
This means that, in this particular situation, if you reserve a property with a purchase price of £600,000 (probably more likely if you are buying for a second or third time), Barratt will pay you £30,000 towards deposit and £6000 towards flooring.
Cala Homes is offering a September deal on certain developments that will give up to 105% Part Exchange or a 5% deposit paid financial package.
Something to consider when buying a new build
Despite all of this, it remains the case that buying any home can be complicated, and sometimes more so when it comes to new builds in terms of the legal process.
However, using a good lawyer with experience of new build conveyancing can ensure that the contract is in your favour and you can maximise the benefits.
There's no doubt that the prospect of buying a home can be daunting but seeking advice from an independent mortgage broker right at the start can ensure that the process is a smooth one.
Darren Polson is head of mortgage operations at Aberdein Considine