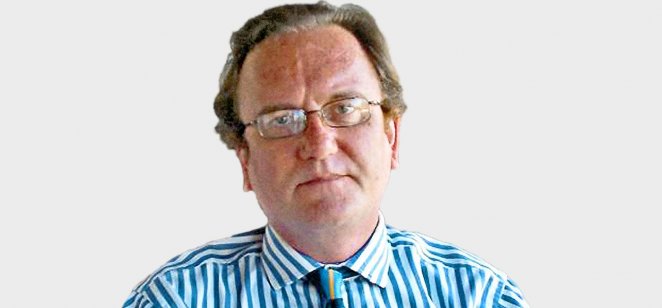 That Amazon (NASDAQ: AMZN) has eaten the high street we know. One reason we know this is that the shouting is now how to reduce taxes on shops and stores and increase it on Amazon – the digital sales tax. We only get that sort of shouting when businesses are under great pressure from competition. We can also observe the same thing just by looking at the share prices of the commercial property owners, Land Securities (LON: LAND), Hammerson (LON: HMSO) and the REIT, British Land (LON: BLND). We can't look at Intu Properties (nothing to do with Intuit, the American software company) because that joined the stock market in the sky by going bust.
Hammerson PLC (HMSO)
There's quite a bit of economics to go through here but our starting point has to be that stock markets are forward looking. What we already know is already in share prices – therefore that LAND, HMSO and so on have been shellacked by AMZN and friends is already in those share prices. What matters now is what happens moving forward – do the commercial property owners rise again? Or are they just on that INTU pathway to administration? 
The first bit of background economics is that the rise of internet shopping might affect retailers, sure it might. Brands that don't move online when everyone is shopping online will have a hard time of it. Well, most of them – Primark is still going great guns despite not selling online. The people who really suffer though are those who own the retail sites – the commercial property companies. Logically, if there are fewer retailers who want stores and yet the same number of retail stores then each one is worth less. This is exactly what has happened and dragged down those commercial property share prices by 90% and the like. Rents are falling, vacancies rising, landlords get screwed. As the Office for National Statistics has taken some glee in pointing out, when the internet is 12% of retail sales then 12% of shops are empty. When 14% then 14% – and the bite keeps getting bigger.
Great juddering leaps
Except, except, clearly lockdown accelerated matters. At one point over 30% of retail sales were online. Come the end of lockdown that then reverses. The trade is, well, how far is it going to retreat? The recent results from the commercial property companies are, like all corporate results, backward looking. We need to try and predict the future to know what results, therefore valuations, are going to be.
So, do we think that the internet will go back to being that 14% or so of retail? Which then advances – as it has done – by eating about 1% of the market each year? Could be, could be. Or do we think that peak 30% might fall back to only 20%, then continue that upward climb? Could be, could be. 
That's not enough to try to predict though. Not to predict share prices. For which we need one more piece of economics. That's the structure of commercial property holdings in Britain. The big secret of which is "upwards only". Property is normally leased out for, say 25 years. With three year rent reviews. That's fine – but it's normal that the rent can only ever be revised upwards. This means that gentle declines in rental values just don't happen. Rents can only change downwards at the end of leases – or when the renter enters administration or undertakes a scheme of arrangement (think, sorta, like Chapter 11). This means that if rents are to go down they'll do so in great juddering leaps.
Add in the other effect of upwards only rent reviews – commercial property was thought of as a nice safe thing to lend against. So, it was borrowed against, of course. The buildings are worth something, of course, but so is the debt. When rents come juddering down and so therefore do building values the total equity left can be less than the debt pile. Which is exactly what happened to Intu. Falling rents meant the property valuations fell below the debt owed, the equity capital was wiped out.
Fun Times
This could, depending upon what happens next, also happen to the other commercial property companies.  
Or, alternatively, valuations have already dropped to that worst case scenario and as physical retail recovers from lockdown rents at least stabilise. Meaning that the property companies are geared – if you're geared downwards because of the debt burden you are also, by definition, geared upwards for the same reason – to rise more than the lift in prospects. Fun times, eh? 
What is your sentiment on HMSO?
Vote to see Traders sentiment!
Now this has concentrated upon the UK property market because it's always location, location, location in this business of property. The same general aspects will apply to other rich world markets though, the US and across Europe, even if the details might differ. The internet is eating retail and that is going to change the value of retail property. Places like India, perhaps not – the whole market is growing fast enough that these sectoral shifts might not matter. And of course who the hell knows what's happening in the Chinese property market.
The good news is that we can rely upon the other half of commercial property, the office market, right? Except, well, no, because that same lockdown accelerated the internet in another way, that ability to work from home. We again think that there might be some rollback because there is indeed value in people actually getting together and being people in public. The balance of how much office space is going to be needed in city centres is going to depend on the interaction of both those things. We know we can work from home but what's the best mix of at home and socially? No, no one does know yet.
In the long term property valuations, therefore commercial property companies, will depend upon how these usages cases settle out. In any trading horizon the determinant is going to be what people think that final settlement will be. The art of creating a trading position being getting right the balance of what everyone else does think. Has lockdown meant the market has over-reacted to the internet influence upon commercial property values? Or, perhaps, not enough?
Further Reading