The terrace was previously at the centre of a 2016 legal battle between a Sydney banker, who tried to take possession of the vacant derelict home, and angry neighbours. The squatter's claim was dismissed by the Supreme Court of NSW in late 2016, and the property was sold the following year.
The most recent owners had obtained development approval for upgrades and an extension, but decided not to go through with the build, Foy said.
In Stanmore, five buyers turned out to compete for a three-bedroom Federation home at 22 Stafford Street, which sold for $2.45 million.
The auction for the 297-square-metre block opened at $2 million, and four of the parties took part, driving the price past the $2.2 million price guide and $2.35 million reserve.
Buyers Anna Moule and Tim Atkins, upsizing from Balmain, were last to enter the competition and were shocked to walk away with the keys.
Loading
"We thought there would be a bit more competition," Atkins said. "It's around what we wanted to spend, we had a little fuel left in the tank but can now spend that on some cosmetic upgrades."
The couple, who had been searching for a home since November, feared the price may go out of their range, having seen other homes soar well past expectations in previous months.
The result was above Stanmore's median house price of $2,282,500, on Domain data, and well above the $295,000, that records show it traded for in 1994.
Selling agent Michael Harris, of Raine & Horne Newtown, described the market as "a bit hit-and-miss" but said realistic vendors were still seeing good buyer demand.
"Buyers know where market value is … and do not want to overpay," he said.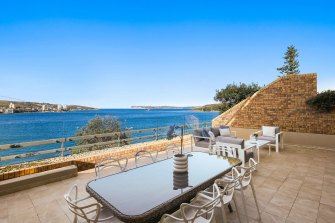 In Fairlight, a three-bedroom waterfront townhouse at 9/55 The Crescent sold for $5.7 million.
Following a vendor bid of $5 million, two of the three registered parties traded bids, pushing the price up in mostly $100,000 and $50,000 jumps, with the home selling for the reserve price.
A local family outbid downsizers from the northern suburbs for the home, which traded through Tim Mumford, of Stone Real Estate Manly. Records show the home last sold for $1,927,000 in 2006.
In Chiswick, tension ran high at the auction of a deceased estate that sold for $4,605,000, with the underbidder snapping her bidding paddle in half and leaving the auction floor when she was outbid.
She was among five buyers, out of 11 registered bidders, who competed for the four-bedroom house with water views on the 506-square-metre block at 3 Hezlet Street. The home sold to a family from Sans Souci, who inspected it for the first time on auction day and plan to renovate it.
The property sold through Mario Carbone, of Ray White Drummoyne, who declined to give the reserve.