brown hotels launches dave red athens
brown hotels has launched dave red athens, a new 87-room hotel in the greek capital that merges an industrial style decor with retro references. designed by k-studio (read our recent interview with the greek firm, here), the urban boutique hotel brings together original vintage pieces, memorabilia and nostalgic gadgets that pay homage to the 1970's. each of the 87 rooms features exposed pipes, bare concrete walls, marble top surfaces and oak wood furnishings, while the entire property is finished in fiery red branding.
following the success of the three dave properties in tel aviv, we decided to introduce the concept to athens, bringing the brown hotels' playful counterpart to the revamped omonia square,' says leon avigad, founder of brown hotels.'situated by the recently opened brown acropol, and the soon-to-open lighthouse athens, dave red athens presents a young and lively hospitality offering that is unrivalled in the city.'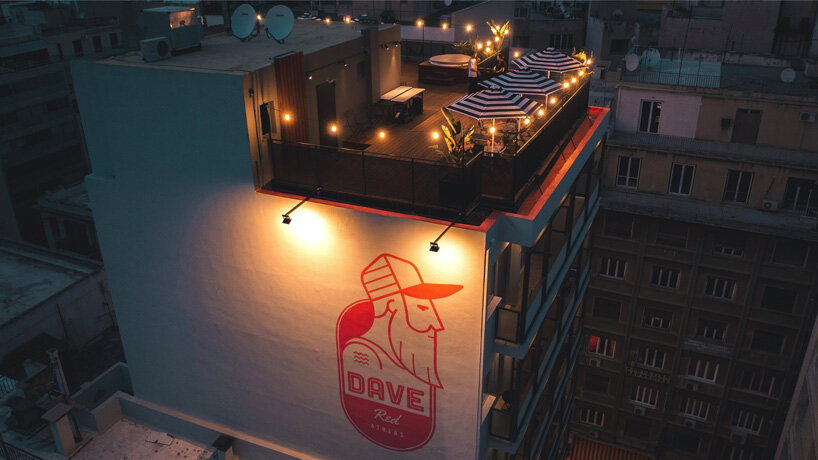 all images courtesy of dave red athens – brown hotels
an urban athenian bolthole for the modern-day traveller
situated on omonia square, dave red athens ushers in a new wave of hospitality to the square, breathing fresh, young energy into the revamped area with fun and budget-friendly accommodation. through a scheme to redevelop the once considered up-market area, omonia square was last year restored to its former glory with the reestablishment of the iconic water feature; an impressive, ecological water fountain illuminated by LED technology and a thermo-neutral surrounding surface to reduce the area's thermal footprint during summer. the hotel's building formerly served as the KKE (communist party of greece) headquarters, which is honored beautifully through a wall mural at the entrance of the hotel's mezzanine area.
the ground floor features a bar and restaurant, while an underground nightclub, accessed through a secret door in the iconic brown hotels library and operated by six d.o.g.s, will open soon. more communal spaces include the roof terrace, where guests can enjoy sweeping views across the ancient city, a spacious sundeck, a jacuzzi hot tub and complimentary sparkling wine on tap. additionally, in the hotel's mezzanine area, they can find a bar, pool tables, original nintendo and packman consoles, arcade machine, adjoining meeting room with blackboard walls and an intimate balcony with hammocks to relax in. dave red athens presents four unique room types: the urban, foxy, foxy+, and urban+ balcony. each room features a walk-in shower room, olive era bath products, open wardrobe, slippers and bathrobes, super soft egyptian bed linens and towels, 43" TV screen with cable television, high speed wi-fi internet, a safe, minibar and nespresso machine.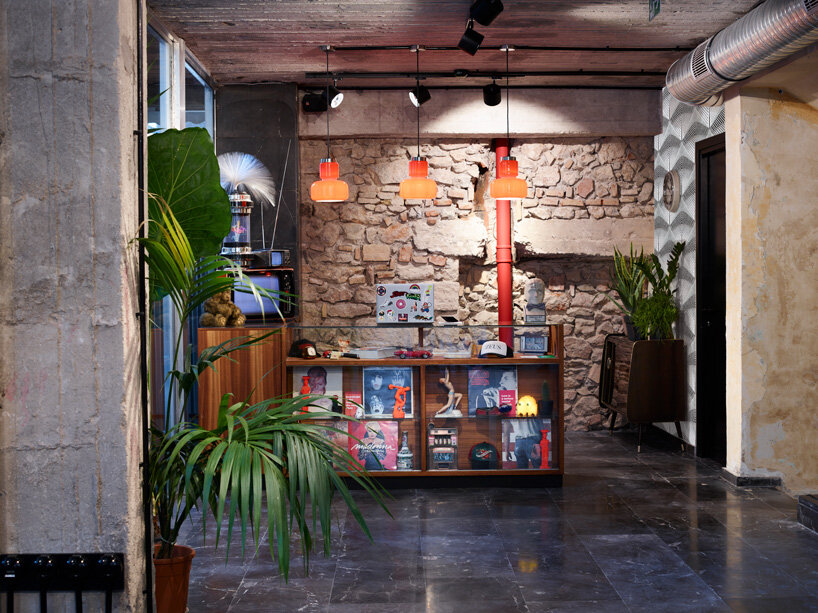 dave red athens reception area
following dave gordon, dave levinsky and dave downtown, dave red athens is the first property from brown hotels' affordable line 'dave – son of a brown', to launch outside of tel aviv. the hotel has opened alongside two other new properties by the group, brown acropol and villa brown ermou, as part of a broader expansion plan into the greek market. brown hotels seeks to spread the success of its devotion to service, design, creativity and style through the opening of seven additional hotels in athens by 2023. like the group's well-known tel aviv properties, brown hotels will subsequently open lighthouse athens, brown spices and theodore athens, and additional properties in thessaloniki, corinthia, crete, corfu and cyprus.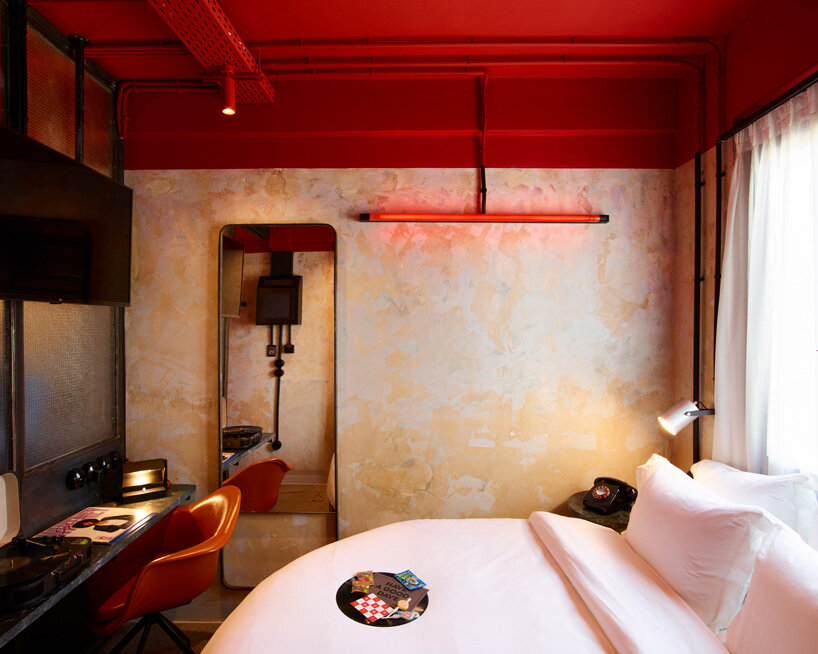 each of the 87 rooms features exposed pipes, bare concrete walls, marble top surfaces and wood furnishings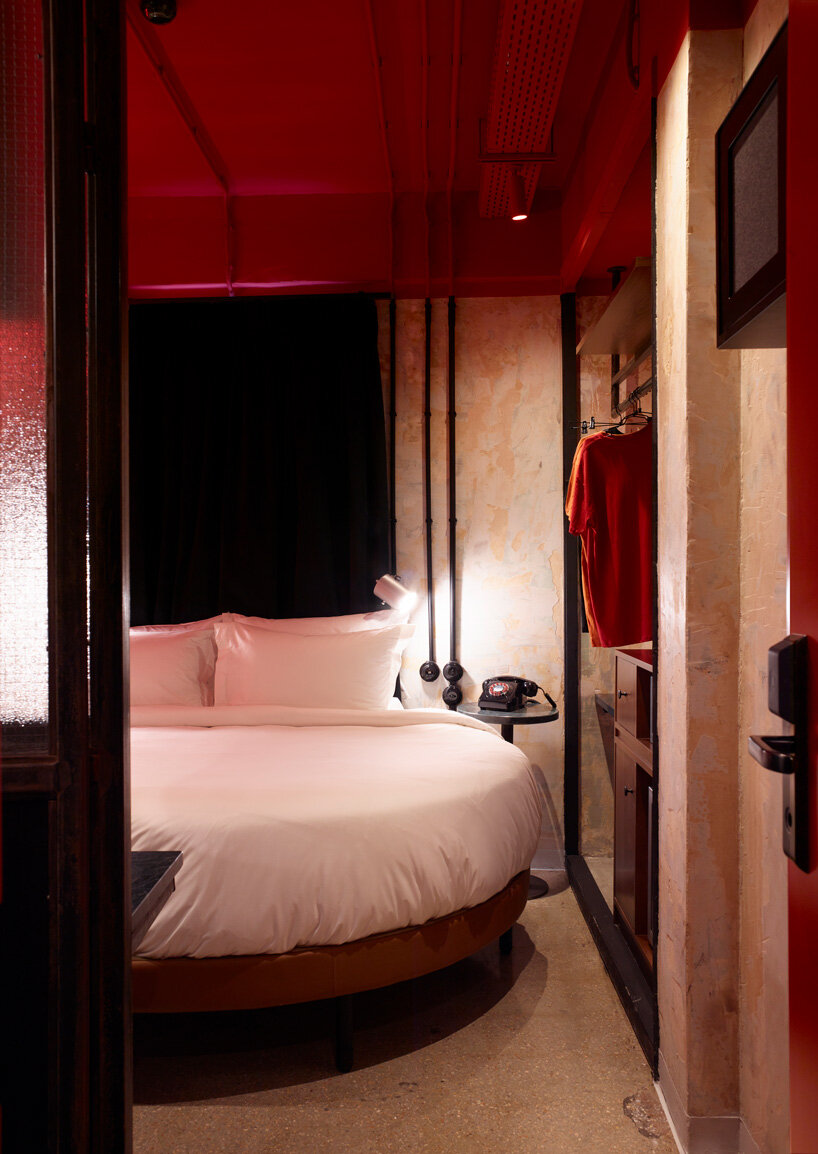 the 'foxy' room features an inviting, circular queen sized bed