With this week's filing for bankruptcy protection, WeWork has cemented its place in Silicon Valley's Hall of Shame.
Like so many over-hyped start-ups of the past, WeWork's expansion trajectory was overly-ambitious.
It also suffered from terminal mission creep – with the company investing in everything from residential property, to private schools to artificial wave pools.
Not to mention its lavish spending – which included the purchase of a private jet at a time when it was haemorrhaging cash.
And while founder Adam Neumann was ultimately ousted, and the company restructured, it clearly still struggles with the ghosts of its past.
But unlike fellow Hall of Shame inductees like Theranos and FTX, behind the excess and bluster, WeWork actually has a solid business idea.
"The business model makes sense and it was obviously working for established players," said Tom Dalton, partner at the real estate practice of law firm Dentons.
Though he adds that the way WeWork went about executing its vision meant it was always going to struggle.
"WeWork went for high rent properties with high amenity quality," he said. "It was always going to be at a stretch when the market shifted."
The irony is that, at a time when its future is far from certain, the market is perfectly primed for what WeWork has to offer.
Pretty Vacant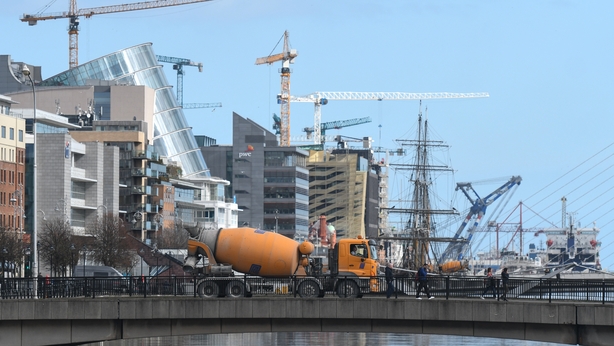 It doesn't seem that long ago that the Dublin City centre skyline was little more than a cluster of cranes – as office developments sprung up along the docklands (and beyond).
And those new offices were generally pre-let years before staff would ever set foot inside, more often than not to a single multinationals that was looking to house their ever-growing workforce.
But it's a different market today.
The Covid pandemic has led to a sea change in our relationship with the office. The surge in remote and hybrid working has meant that employers no longer need to have a desk for every employee.
Coupled with significant job cuts by companies like Meta, Alphabet, Amazon and Twitter/X, it means that the office space they agreed to lease many years ago is now way beyond what they need.
That has led to a rise in the so-called 'grey space' market – where big tech firms seek to sublet some of the office space they have.
This has also led to some odd chains of deals.
Irish tech firm Intercom has agreed to let the Cadenza building on Dublin's Earlsfort Terrace, but earlier this year agreed to sublet just under half of that space to investor KKR.
But this week The Irish Times reported that Intercom was now delaying its own move into the building, due to the high costs involved in fitting it out.
Instead, it is now set to move staff to a building on St Stephen's Green, which it is subletting from recruitment firm Indeed.
In many other cases, though, this 'grey space' isn't finding a taker.
"They're struggling to get [that space] away," said Tom Dalton. "How much they're willing to give away is not as attractive from a long-term perspective."
He said that companies offering the space are often reluctant to stifle their growth potential in the future – or may only be willing to deal with one big lessor, rather than numerous smaller ones.
In other cases firms' changing requirement for space has seen them step back altogether from talks to acquire new buildings.
And it's factors like these have contributed to a sharp increase in the vacancy rate in the Dublin office market.
According to HWBC, it stood at 14.4% by the end of June – up from around 10% in the same period of 2022.
And it expected the rate to climb further in the second half of this year, as the market entered "correction mode".
And with a slump in demand, those on the supply side have responded as you would expect.
Data from BNP Parbias Real Estate Ireland forecasts that 170,000 square meters of new office space will be completed this year – down 27.5% on the amount that came on-stream in 2022.
It's also forecasting a year-on-year falls in 2024, 2025 and 2026 – as demand for office space contracts.
That coincides with its Purchasing Managers' Index, which has shown a decline in activity in the commercial property sector for three consecutive months.
"Large scale new developments that have happened pre-Covid, all of them were underpinned by tenant agreement under lease, by a single tenant," said Tom Dalton. "If you're trying to get into multi-tenant buildings, it's very difficult to coordinate them so you have certainty on your build before you start."
Meanwhile the companies that look to buy up Irish offices in order to make an income from those multinational leases have become more cautious, too.
Lisney said there were €444.1m worth of commercial property investments in Ireland between July and September – down 75% on the same period of 2022.
It's a tough comparison given the record level of investment in Q3 2022, but this year's figure is still less than half the average seen in the past decade.
High interest rates are a factor in the pull back from investors – but if there are fewer tenants willing to pay big rents, that's going to undermine the potential for returns too.
Office 3.0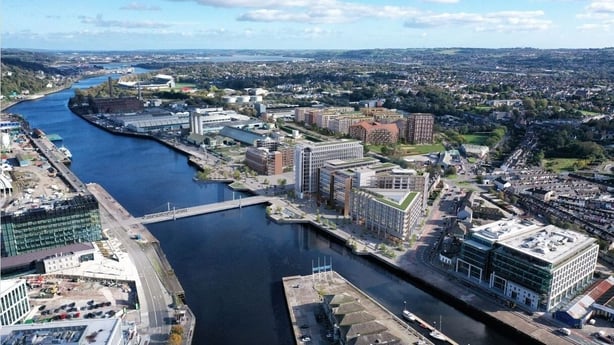 That's not to say that there is no demand for new office space – it's just a very specific type of office that's in demand.
"People are only looking now at Grade A, central business district properties," said Tom Dalton. "Secondary stock is not as attractive as it would have been as we move towards 2030 and 2040 targets in terms of ESG."
The key for companies now is sustainability – not just in terms of their need for the space into the future, but also how it lines up with their green credentials.
"Sustainability is progressively more important as a building selection factor," said Melanie Bevan, strategy and change manager at CBRE.
That requirement is reshaping the way the head office looks, externally and internally.
In the past companies telegraphed their success with sprawling campuses, or imposing blocks.
Today, though, a more modest approach is in vogue – as they look to shrink their physical and carbon footprints in one go.
But the sudden transition to a remote and hybrid workforce has also prompted a change in approach.
While always an important factor, location is now key – as employers try to make the office as attractive and accessible a location as they can for workers that could (in theory, at least) do their job anywhere they like.
"Location is still by some distance the most important factor in organisations selecting an office," said Melanie Bevan. "It's of huge appeal to people to have great travel options and accessibility to the office, and commute times and accessibility is going to be a huge driver in return to office rates."
That attempt to boost appeal is changing offices internally, too, as companies try to figure out how to make the office environment attractive too.
Some early attempts at making that change didn't quite land, though.
"There has been a push for people to come in when people need to collaborate – and when you need quiet work, you can go home," said Melanie. "But as well-intentioned as that idea is, people aren't able to structure days and weeks that rigidly.
"What we need is for your office environment to facilitate all the kinds of work."
That means that the era of the open plan office, with banks of desks, is coming to an end.
Instead companies are having to assess the way their staff work, and then decide how best to reallocate space to make it functional.
"You might need quiet spaces, and break-out collaborative space that allow for creativity and team connection," he said. "You also need areas that encourage ad hoc human interaction, where people can detach from the work, just interact with people they work alongside."
Shared Future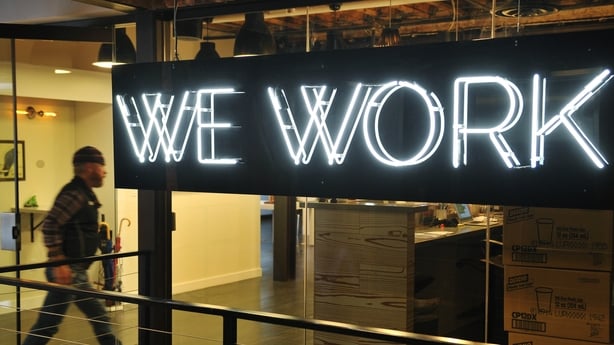 The irony is that this flexibility has been baked into the WeWork model for years.
And the flux that currently exists in the market represents the ideal opportunity for its business model.
While there are plenty of office vacancies today, and plenty of 'grey space' too, companies might be reluctant to commit to a lease of their own until they really understand what their office needs to look like in the long term.
"It's all well and good saying there's a lot of grey space out there – but you have to fit it out, which is expensive, and then lease it for maybe five years," said Tom Dalton. "Instead we could go to a co-working place and say we want to take 100 desks for 12 months.
"Yes, we pay more for those desks over that 12 months than we would if we took the space ourselves, but we're not paying a fit-out contractor so it works out."
Similarly, companies that are downsizing their office space due to hybrid working today may suddenly find themselves falling short in the future – like when a project deadline requires more people to come on-site than is normally the case.
Of course WeWork still may take advantage of this – its three Dublin locations continue to operate (though there's a question mark over the fate of its fourth site at Central Bank Plaza, which was due to open in May 2024).
But while the WeWork of old would have moved aggressively to grab market share, its current difficulties mean that will likely be left to its many rivals.